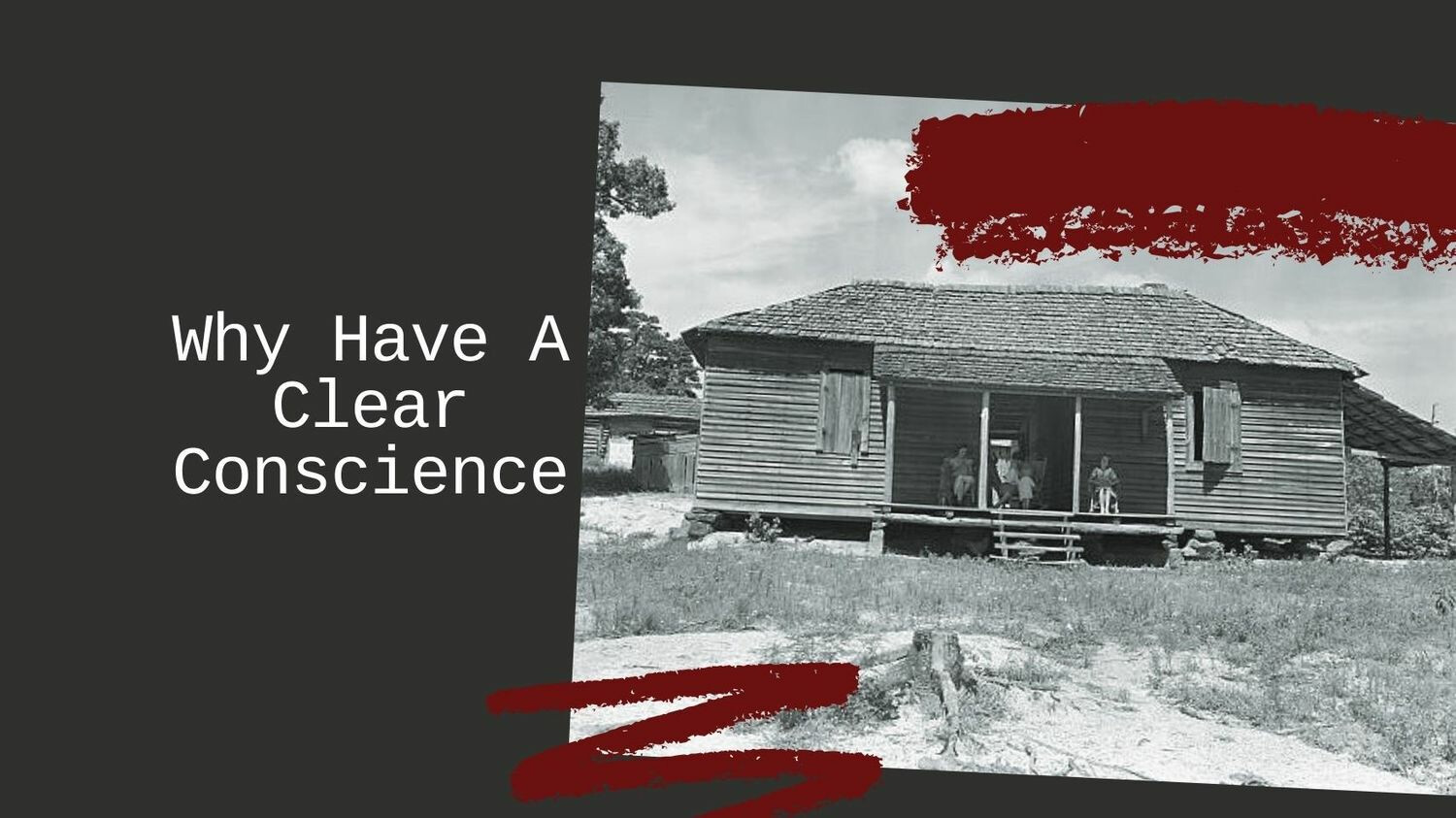 SCRIPTURE
"Timothy, my son, I am giving you this command in keeping with the prophecies once made about you, so that by recalling them you may fight the battle well, holding on to faith and a good conscience, which some have rejected and so have suffered shipwreck with regard to the faith." 1 Timothy 1:18 and 19
SPOTLIGHT
I will never forget what my dear friend Albert Savage told me. He was an African American man, many years my senior, who was an outstanding Christian servant in our church. He had been born in the Arkansas cotton fields. His father was a sharecropper. Somehow, his family made it to Chicago. During his life he had experienced much prejudice. He knew what racism was. This one day he told me that every night he goes to bed, he has a clear conscience. He makes sure that he asks forgiveness of anyone he has offended, or forgives anyone he needs to forgive. Brother Savage knew the power of a clear conscience.
What type of a conscience do you have? Your conscience is considered to be an inner sense that tells you what is right, or wrong, regarding your behavior and motives. Does it guide you to what is correct, or erroneous? Unfortunately, your conscience may be seared and needs to be cleared. Paul instructed Timothy to have a good conscience. He pointed out that some people he knew, had allowed their conscience to be seared, which had resulted in them losing their faith.
The Bible says a great deal about having a clear conscience. Here are some reasons:
#1. Your conscience is one of your most treasured possessions. This is why Paul is telling Timothy to tightly hold onto a good conscience. The New Living Translation says it this way; "Cling to your faith in Christ, and keep your conscience clear. For some people have deliberately violated their consciences; as a result, their faith has been shipwrecked." [1 Timothy 1:18,19 NLT.]
When you possess a clear conscience, you are thinking God's thoughts and living God's ways.
#2. Your conscience leads you to a strong faith, or shipwrecked faith. When you go against your God conscience, you move into dangerous territory. Paul calls it shipwrecking your faith. Read 1 Timothy 1:18-20, where he sadly identified 2 men who had lost their faith. You can avoid a shipwrecked faith by always taking God's Word seriously. [See Hebrews 3:12.]
#3. Your clear conscience gives you an inner freedom of spirit. This is when you know that God is not offended by your thoughts and actions. Read Psalm 32:1-5. David sinned and then lived a long time without asking for forgiveness. He allowed his smeared conscience to become a seared conscience. Read Psalm 51.
#4. You are now able to fulfill your highest purposes. Read Hebrews 9:14. Your highest purposes in life will always lead you to serve God in everything you do.
#5. You have a sensitive conscience that identifies you as a maturing Christian. Read Hebrews 5:13,14. Possessing a sensitive conscience does not make you weak, or emotional, but provides you with a built-in alarm system that causes you to know the difference between good and evil.
#6. You live a transparent life. Read 2 Corinthians 1:12. A clear conscience allows you to be certain that what you say is what you are. You do not have to live life looking over your shoulder, wondering if someone is watching.
#7. You will be able to know the difference between Godly suffering and discipline. Read 2 Corinthians 6:3-13. Both Paul and Job knew this difference.
#8. You will have the ability to build deep successful friendships and make correct decisions. Read Matthew 5:24 and Proverbs 28:13. Often relationship problems and poor decision making, can be connected to a conscience that drastically needs to be cleared.
With a clear conscience, comes harmony and wisdom.
#9. Your personal witness is empowered. Read 1 Peter 3:15,16. When you know you are pleasing God, you can always stand for truth.
#10. Your prayer life is empowered. Read 1 John 3:21,22. Effective praying is related to having a clear conscience. You can confidently stand before God, asking for anything, because you know you obey His commands and long to please Him.
SOMETHING TO DO
#1. Read the Scriptures for #3 to #10, while you meditate on each one.
#2. What steps do you have to take to make your conscience a treasured possession?
SOUL TIME PRAYER
Heavenly Father, I now have become convinced that I must treasure my clear conscience more than any of my earthly possessions. Thank You for forgiving me of all my sin. Guard my mind, emotions, words and actions. I want You to bless me with a Godly conscience, for the rest of my life. AMEN!