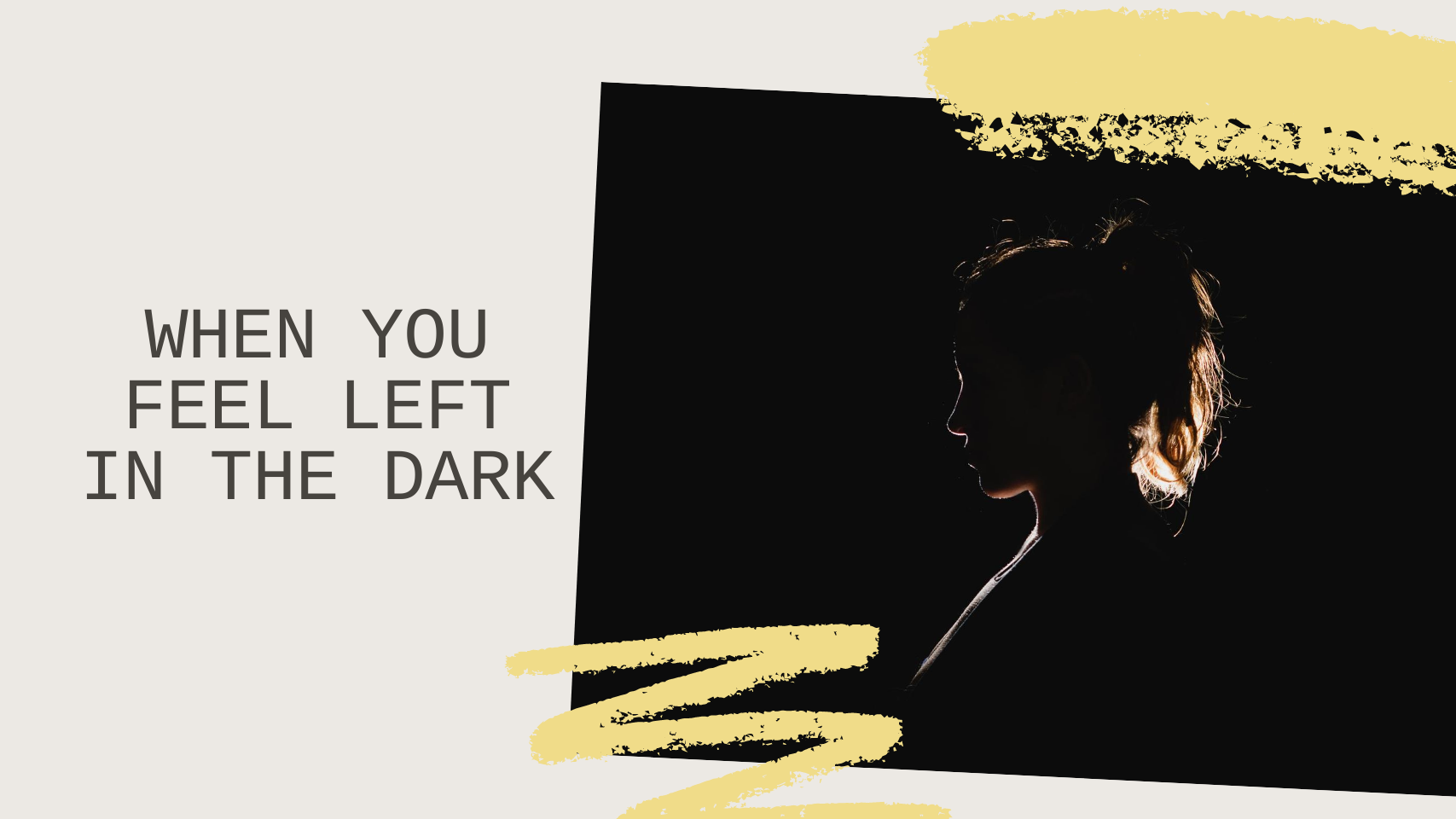 SCRIPTURE

"Do not gloat over me, my enemy! Though I have fallen, I will rise. Though I sit in darkness, the Lord will be my light. Because I have sinned against him, I will bear the Lord's wrath, until he pleads my case and establishes my right. He will bring me out into the light; I will see his righteousness." Micah 7:8-9
SPOTLIGHT
Suppose you have to make a big decision, but you feel like you were in the dark. You don't know what to do. You feel uninformed. You can't see the light because you don't have enough information. Maybe you previously made a bad decision. You don't have confidence, and fear that you may blow it again.
I was ministering in Athens Greece, staying at an Airbnb apartment. Having studied the layout of the rooms, I felt confident if I had to get up during the night, I could successfully maneuver. When I turned the light out to test my belief, I reached forward to touch the wall. It wasn't there. I reached again. Still not there! Then I touched it. In the dark, I did not properly perceive the distance. Both my depth perception, and memory were greatly hindered by the dark. This is why we need light to make good decisions.
The fact is that we can feel left in the dark about making a decision but still get enlightened. Micah testifies to this in the book that is named after him. In our Scripture text, he clearly states this. God had brought judgment on this nation because of their sins. However, Micah spoke in faith that God would forgive and restore. In darkness, God would not just give light but be Light.
Job spoke similar words when he said, "For I know that my Redeemer lives, and He shall stand at last on the earth; And after my skin is destroyed, this I know, that in my flesh I shall see God, Whom I shall see for myself, and my eyes shall behold, and not another. How my heart yearns within me!" (Job 19:25-27,NKJV)
Do you remember my experience in the Athens apartment? What I learned is this. Don't trust your past experiences. Maybe you think you can make a similar decision as to what you did in the past, when you had light. But you have to remember the reality of being in the dark. Things significantly change when it is dark. Your perception is not the same. What you thought should be, you discover is not.
When the believer is in the dark, he/she does not have to stay there. Jesus Christ said, "I am the Light of the world. Whoever follows Me will never walk in darkness, but will have the Light of Life." [John 8:12]. A believer never has to make decisions in the dark because Jesus Christ is the Light. Jesus Christ provides the illumination needed to know the right way to knowing God and experiencing a personal salvation. From that point on, He provides green, yellow, or red lights, when a believer is making life decisions in the dark.
Someone once said, "Darkness cannot drive out darkness: only light can do that." Jesus Christ is that Light for you. God's Word, the Holy Bible, is the written Light that you can read every day. You don't have to feel like you've been left in the dark when making decisions. Jesus Christ declared, "I have come into the world as a Light, so that no one who believes in Me should stay in darkness." (John 12:46)
SOMETHING TO DO
The next time that you are in a dark room where there is no light, try the experiment that I tried. This experience will certainly clarify to you what it means to be in the dark when making decisions.
SOUL TIME PRAYER
Thank You Lord Jesus that You are the Light of the world. You have given me the privilege to personally know the living God. Thank You Lord Jesus that You also provide Light for every step that I take in life, regarding every decision that I make. I choose this day for You to light up my path, and all of my life. AMEN!