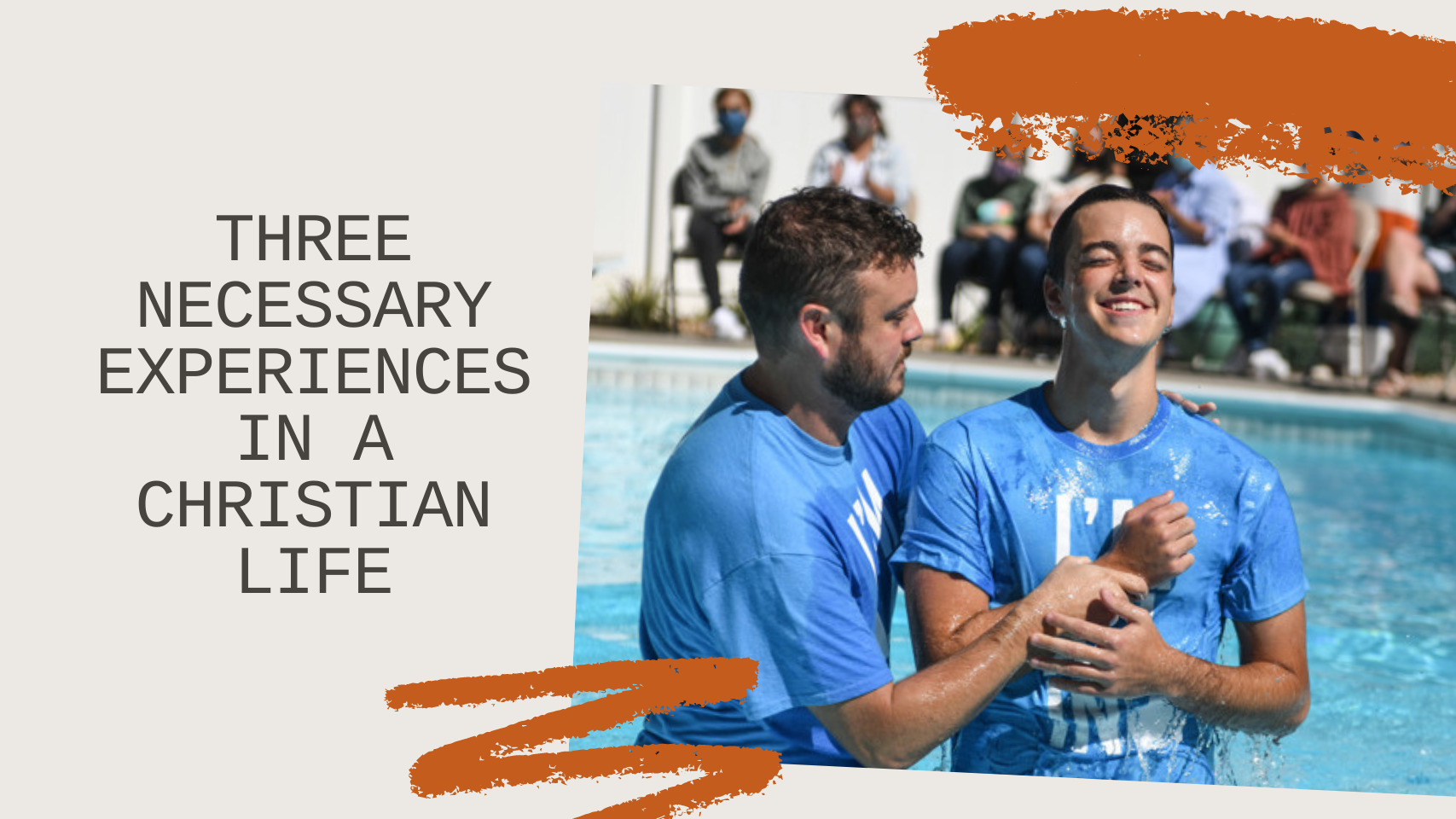 SCRIPTURE

"At that time Jesus came from Nazareth in Galilee and was baptized by John in the Jordan. As Jesus was coming up out of the water, he saw heaven being torn open and the spirit descending on him like a dove. And a voice came from heaven: "You are my son, in whom I love; with you I am well pleased." At once the spirit sent him out into the desert, and he was in the desert for 40 days, being tempted by satan. He was with the wild animals, and angles attended him." Mark 1:9-12
SPOTLIGHT
In the first chapter of Mark's Gospel, there are 3 experiences Jesus Christ had which every Christian also needs to experience. They are identified in the Scripture text above.
The first experience is water baptism. Jesus Christ asked John the Baptist to immerse Him in the Jordan River. [Mark 1:9]. In doing this, Jesus identified Himself with humanity. He was being obedient to God the Father, and dedicating Himself to the calling the Father had put on His life.
The second experience is anointing. While being baptized in water, the Holy Spirit descended on Him like a dove. Then God said, "You are My Son whom I love; with You I am well pleased". [Mark 1:10]. By experiencing this, Jesus was acknowledged and accredited by God for purposeful ministry.
The third experience is temptation. After baptism, Jesus Christ faced temptation by Satan in the desert for 40 days. [Mark 1:12,13]. In doing this, Jesus victoriously overcame the arch enemy of the world, namely Satan.
Jesus Christ's three experiences are also necessary experiences for every Christian.
Every Christian needs to be baptized in water in order to testify that Jesus Christ is his/her personal Savior. Romans 6:4 states, "We were therefore buried with Him through baptism into death in order that, just as Christ was raised from the dead through the glory of the Father, we too may live a new life."
Every Christian needs to be baptized in the Holy Spirit in order to receive God's power to minister. Jesus said in Luke 24:49, "I'm going to send you what My Father has promised; but stay in the city until you have been clothed with power from on high." Acts 1:4,5,8 states, "On one occasion, while He was eating with them, He gave them this command; 'Do not leave Jerusalem but wait for the gift My Father promised, which you've heard Me speak about. For John baptized with water, but in a few days you will be baptized with the Holy Spirit. But you will receive power when the Holy Spirit comes on you; and you will be My witnesses in Jerusalem, and in all Judea and Samaria, and to the ends of the earth.'"
Every Christian needs to face temptation in order to have his/her faith made strong.
1 Corinthians 10:13 states, "No temptation has seized you except what is common to man. And God is faithful; He will not let you be tempted beyond what you can bear. But when you are tempted, He will also provide a way out so that you can stand up under it." The believer does not have to seek temptation. Remember Jesus teaches him/her to pray, "Lead us not into temptation, but deliver us from the evil one." [Matthew 6:13]. However, every believer can expect temptation and face it head-on. Why? Because he/she can be victorious, not in his/her own strength, but through the power of God within him/her.
Isn't it time for you to be baptized in water, like Jesus Christ, your Savior? Jesus Christ commanded it in His Great Commission. [Matthew 28:18-20]. Isn't it time to be filled or refilled with the Holy Spirit? The Bible teaches continual filling. [Ephesians 5:18]. Isn't it time to welcome the spiritual growth that may come through temptations or struggles in life? You don't seek temptations or struggles, but you can come to realize that through the testing of your faith in Jesus Christ you will spiritually grow. The Bible says in 1 Peter 1:5-7, "Who through faith are shielded by God's power until the coming of the salvation that is ready to be revealed in the last time. In this you greatly rejoice, though now for a little while you may have had to suffer grief and all kinds of trials. These have come so that your faith – of greater worth than gold, which perishes even though refined by fire – may be proved genuine and may result in praise, glory and honor when Jesus Christ is revealed. Though you have not seen Him, you love Him; and even though you do not see Him now, you believe in Him and are filled with an inexpressible and glorious joy, for you receiving the goal of your faith, the salvation of your souls."
SOMETHING TO DO
In the preceding devotional, there are three questions that you need to answer. In addition, now you need to ask yourself:
1) What steps do I need to take to be baptized in water?
2) What can I do in my devotional time in order to experience a fresh PENTECOST?

3) What do I need to change in order to see life's temptations and struggles as being spiritual growing points in my life?
SOUL TIME PRAYER
Lord Jesus Christ, I bow in Your presence, thanking You that You are my Savior and Lord. I choose to follow You. I also choose to willingly experience what You have experienced and through these experiences, I know that I will become more like You, as my heart desires. AMEN.