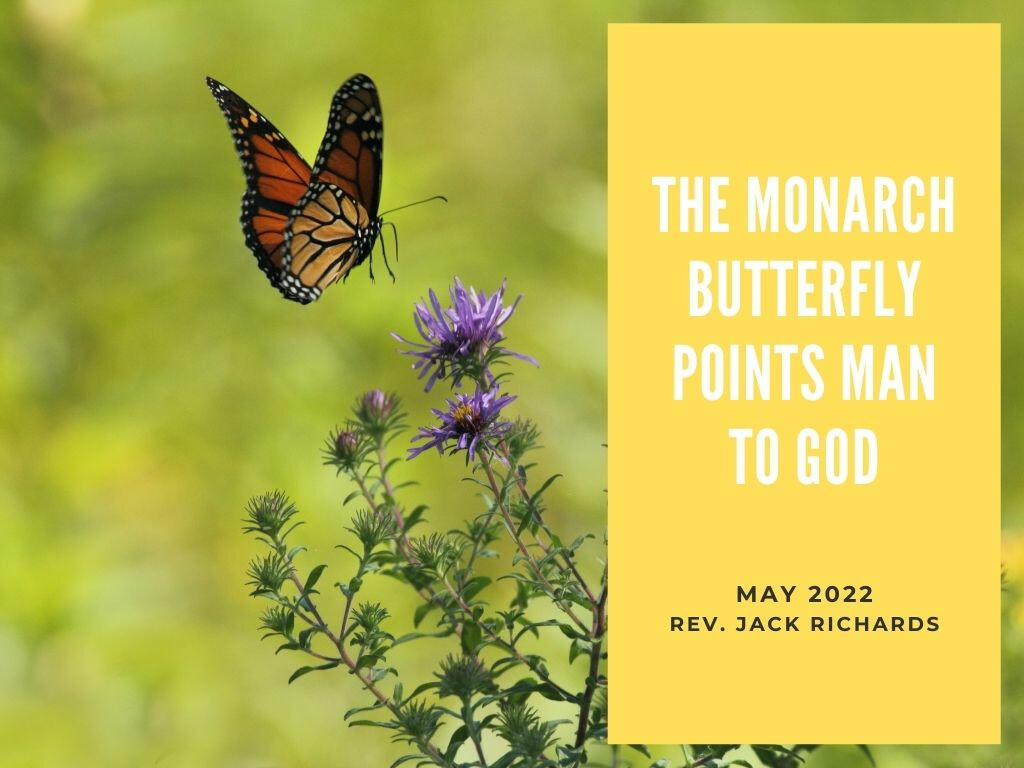 SEARCHLIGHT
Where have you come from, and where are you going? How do you find answers to these significant questions which people have asked from the beginning of time?
SCRIPTURE
"HE HAS MADE EVERYTHING BEAUTIFUL IN ITS TIME. HE HAS ALSO SET ETERNITY IN THE HUMAN HEART, YET NO ONE CAN FATHOM WHAT GOD HAS DONE FROM BEGINNING TO END." Ecclesiastes 3:11
SPOTLIGHT
The Bible declares God is the Creator of everything that has life, as well as every substance. Solomon was inspired to write that there was beauty to behold in everything. In addition, he wrote that God has placed in every human heart, an awareness that life lies beyond this world, and that nobody will ever be able to comprehend God, the Maker of heaven and earth. If you are not yet a believer, this one Bible verse should lead you to search for God. If you are a believer, this verse should point you to trust God more today, than you did yesterday. Here is just one reason.
One of the most beautiful of God's creation is the monarch butterfly. In September, they rule the skies as they make their mystery flight from the eastern part of the United States to Mexico. Hundreds of millions of monarch butterflies fly thousands of miles on their annual fall migration. These regal orange and black creations of God make their way to forested acres, about 50 miles west of Mexico City. None of them have ever been there before their trip.
How do monarch butterflies make this grand excursion is a mystery. Here are the reasons THE MONARCH BUTTERFLY POINTS MAN TO GOD:
#1. A monarch butterfly is nearly weightless.
#2. A monarch butterfly journeys thousands of miles.
#3. Very few other types of butterflies migrate.
#4. Most butterflies lay eggs and die in the fall.
#5. Monarch butterflies migrate to a place where they have never been.
#6. When whales and birds migrate, they have the company of the experienced family members who did it the previous year.
#7. 250 million or more monarch butterflies complete the journey each year.
#8. The average migration is 44 days, meaning the monarchs average 55 MPH,
for a total of 2,500 miles.
#9. What are the odds?
The Bible says in John 1:3, "Through Him all things were made; without Him nothing was made that has been made." Colossians 1:16,17 states, "For in Him all things were created; things in heaven and on earth, visible and invisible, whether thrones, or powers, or rulers, or authorities; all things have been created through Him and for Him. He is before all things, and in Him all things hold together." How can you not help yourself from trusting God with life? The monarch butterfly illustrates man's longing to seek his Creator. Just as the monarch journeys to a place where it has never been, so every man wonders if there is a journey to a life that follows this earthly life.
Deep within your spirit, and the spirit of every man and woman, is a drive to find answers about life. Really, this is a drive to know God. God made you this way. He made you with a yearning to take a journey sparked by questions about life. He wants you to seek out the answers which will lead to you knowing Him. This drive may be ignored, suppressed, or denied. However, within your spirit is a longing to understand where you have come from, and where you are going. You have a longing to go back to your roots, to know what life all is about, and to know your Maker.
Will you take the journey? Will you choose to seek your Creator and Savior? Will you go the distance and experience blessings that you cannot have any other way other than knowing God? Will you discover what life is all about? The Bible says, "The God who made the world and everything in it, is the Lord of heaven and earth, and does not live in the temples built by human hands." [Acts 17:24.] God made the world, and you, but He also wants to live within you. That is what it means to take the journey, just like the monarch butterfly.
SOMETHING TO DO
Check out these Bible verses that promise you great reward when you begin to take a spiritual journey that will lead you to personally know God and understand life. [See Jeremiah 29:11-13, Amos 5:4 and Isaiah 55:6-13.]
SOUL TIME PRAYER
Thank You Lord God, Maker of heaven, earth and me. Thank You for putting within my spirit a desire to find answers to life's most important questions. I am deciding to follow this instinct You have put within me to know You. Today, I choose to take this spiritual journey. Make Yourself real to me. AMEN!