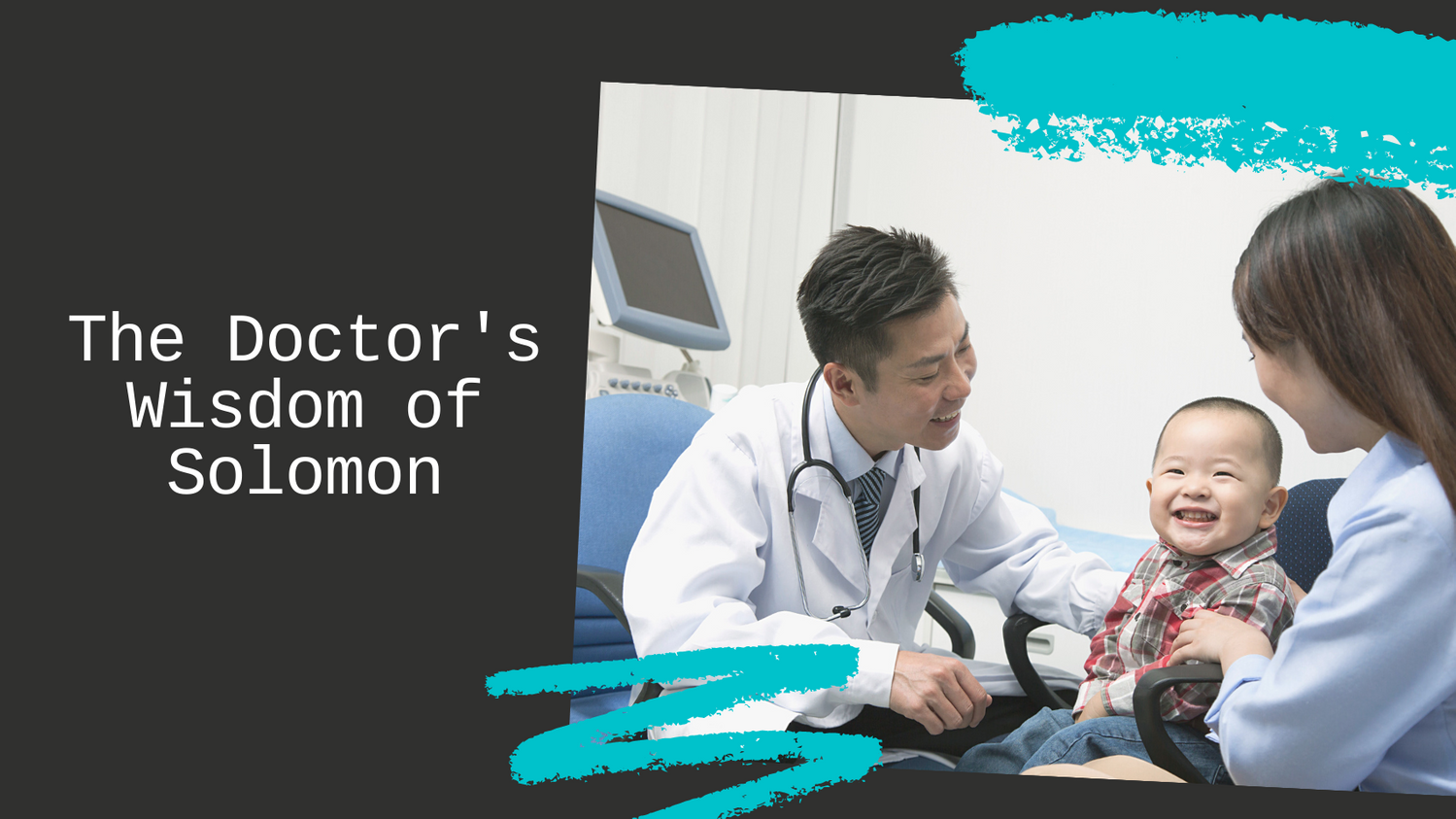 SCRIPTURE
"So give your servant a discerning heart to govern your people and to distinguish between right and wrong. For who is able to govern this great people of yours?" The Lord was pleased that Solomon had asked for this… "And if you walk in my ways and obey my statutes and commands as David your father did, I will give you a long life." 1 Kings 3:9-10 and 14
SPOTLIGHT
The story is told about a woman who went to her gynecologist and said, "Doctor, I have a serious problem and desperately need your help! My baby is not even one years old, and I am pregnant again. I don't want kids so close together." The doctor responded, "So what do you want me to do?" She said, "I want you to end my pregnancy, and I'm counting on your help with this."
The doctor thought about the request for a little time. After some silence, he said to the lady, "I think I have a better solution for your problem. It's less dangerous for you too." She smiled, thinking that the doctor was going to accept her request. Then he continued, "You see, in order for you not to have to take care of two babies at the same time, let's kill the one in your arms. This way you could rest some before the other one is born. If we're going to kill one of them, it doesn't matter which one it is. There would be no risk for your body if you chose the one in your arms."
The lady was horrified and said, "No doctor! How terrible! It's a crime to kill a child!" The doctor replied, "I agree, but you seem to be OK with it, so I thought maybe that was the best solution."
The doctor smiled realizing that he had made his point. He had convinced the mom that there is no difference in killing a child that has already been born, and one that is still in the womb. The crime is the same!
In 1 Kings 3:16-28, you can read how King Solomon made a very wise ruling having prayed to God for a discerning heart to govern the nation. He was able to discern right from wrong when two women came to him, concerning an issue over parental rights to a baby boy. Verse 28 tells us that all the people began to notice that Solomon was blessed with God's wisdom.
THE DOCTOR'S WISDOM OF SOLOMON must have been "birthed" from reading this Bible story. In the 21st century, what parent would not want Godly wisdom to raise a child in this day when the world does not even like to define what is right or wrong. Instead, modern society would rather teach that anything goes as long as it is convenient for you and does not trample on another's rights.
What Christian businessman/woman would not want this wisdom in an era of lawsuits. What Christian student would not want this wisdom in order to discern truth while studying at school.
Please note 2 things when you ask God for wisdom.
#1. The Lord will be pleased with your prayer request. [1 Kings 3:10]. Just as God was very pleased with Solomon's request, so He will be pleased when you sincerely seek, and pray for His wisdom.
#2. God will not guarantee lifelong wisdom unless there is lifelong commitment. [1 Kings 3:14]. Godly wisdom does not mean you will always be Godly. Your heart sometimes gets in the way. God will only guarantee Godly wisdom to those who walk in God's ways.
Today, tomorrow, the next day, and the next, and so on, are all good days to pray for a discerning heart and an ability to know right from wrong. God will be so pleased to answer you.
SOMETHING TO DO
Check out these Bible verses concerning wisdom: Proverbs 2:2-6; 3:15; Luke 12:31; Ephesians 5:17; and James 1:5; 3:17.
SOUL TIME PRAYER
Heavenly Father, grant to me today and always Your wisdom. I need to be able to make Godly decisions. Help me to know right from wrong. Also, help me to be able to communicate this in a wise, loving way to people who need to hear it. AMEN!