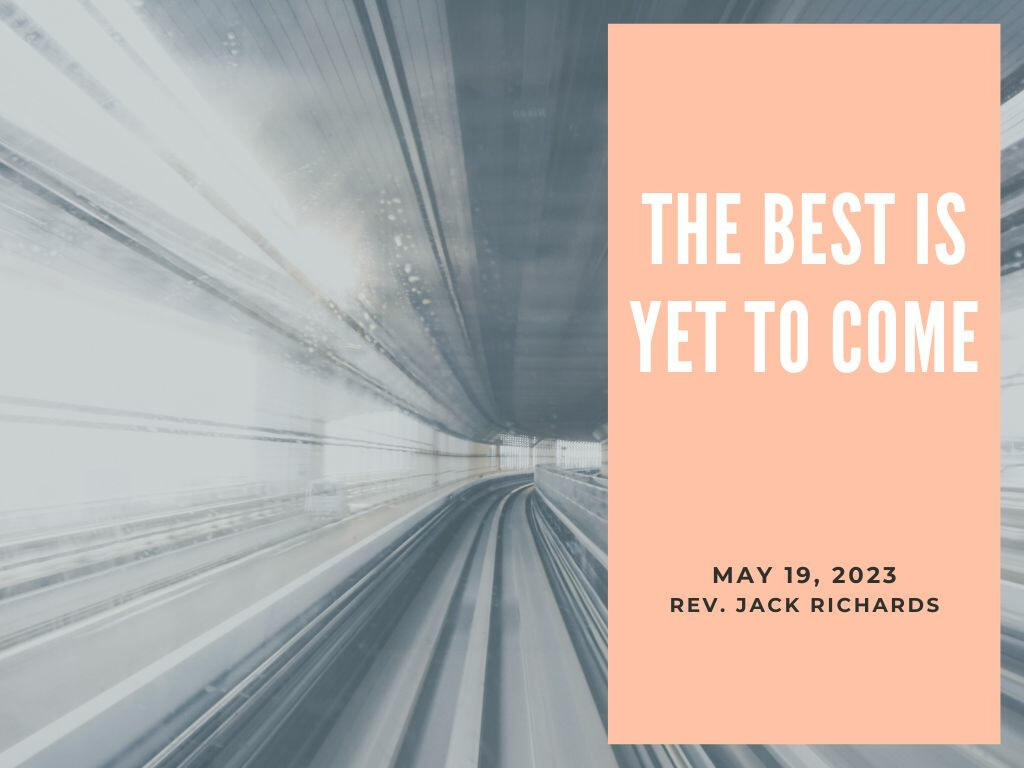 SEARCHLIGHT
Do you take time to plan your future?
SCRIPTURE
Do not let your heart envy sinners, but always be zealous for the fear of the Lord. There is surely a future hope for you, and your hope will not be cut off. Proverbs 23:17,18 NIV
Know also that wisdom is like honey for you: If you find it, there is a future hope for you, and your hope will not be cut off……for the evildoer has no hope, and the lamp of the wicked will be snuffed out. Proverbs 24:14,20 NIV
SPOTLIGHT
Some people say, "The best is yet to come," or "The best is yet ahead." Whichever you use, both statements are wishful expressions for a better future. As the sun sets on one day and rises on the next, is the best yet to come? Are you confident that the best is yet ahead?
Many people view a new day or a new week or a new year as a new beginning. The previous day or year perhaps was filled with painful memories, heartaches, and mountainous obstacles. In projecting ahead, people make decisions and resolutions that focus on change, fresh attitudes, and new ideas.
Sometimes these plans work. Other times they do not. Often the memories, heartaches, and obstacles cannot be forgotten or ignored. Problems from the previous week or year have a way of not disappearing. TGIF means "Thank God it's Friday." That does not mean the following Monday will be better. New Year's Eve does not guarantee a new beginning. When the credit card bill is two pages long, a person cannot stop the bill's accumulating total at the bottom of page 1. It is carried over to page 2.
"THE BEST IS YET TO COME!" is a trustworthy statement if your trust is in Jesus Christ. In the above Scripture focus, the Bible teaches that confidence for a bright future is based on having a reverential fear of the Lord. Do you reverently fear God? In other words, do you worship the one true God? He gives you hope! Nobody can cut off your supply of hope. It is God given. The hope you need for your future is wisdom. The Bible says that having a reverential fear of the Lord means you will receive Godly wisdom. [Psalm 111:10]
Believe Jesus Christ, the living God, to give you the newness for which you long. Jesus will not cancel your credit card debt, but He will give you a fresh perspective and new strength to live life well every day. Jesus called it abundant life. [John 10:10] You must take two steps to do this.
First, you must deal with unconfessed sin. Problems requiring forgiveness need to be faced daily. Deal with the past before planning the future. Pray as David did, "Search me, oh God, and know my heart; test me and know my anxious thoughts. See if there is any offensive way in me, and lead me in the way of everlasting." [Psalm 139:23,24] Then repentantly pray, "Have mercy on me, oh God, according to your unfailing love; according to your great compassion blot out my transgressions." [Psalm 51:1] As someone said, "We have to face our sins before we can put them behind us."
Secondly, trust Jesus Christ for a whole new way of life. He will give you the keys to new attitudes and new approaches to relationships. Your personal relationship to Jesus Christ unlocks for you 10 new doors to your future…>>>
A new past - Romans 6:1-6 >>>

A new future – Romans 8:18-32>>>

A new name and identity – Acts 11:26>>>
A new lease on life – 2 Corinthians 5:17>>>

A new relationship with God – 1 John 1:1-4>>>

A new occupation – Ephesians 6:5-9>>>

A new source of provision – Philippians 4:19>>>

A new family – 1 John 3:1>>>

A new inheritance – Ephesians 1:11>>>

A new assurance – Hebrews 13:5!!!
"THE BEST IS YET TO COME!" When your daily decision and yearly resolution is to worship, follow, and serve Jesus Christ, your best is yet ahead!
SOMETHING TO DO
Take time to plan your future. You will be greatly blessed by looking up all the verses mentioned above regarding the 10 new doors Jesus Christ opens for you. Also, you will be blessed to read Psalm 37:37,38; Ecclesiastes 7:14; 8:7 and Jeremiah 29:11.
SOUL TIME PRAYER
Lord Jesus Christ, I cannot know the future. No human being can tell me the future. However, by knowing You, I know who holds my future. You are my God. I worship You, Almighty God, with my whole life! Thank you for giving me a secure, abundant future! AMEN!
---