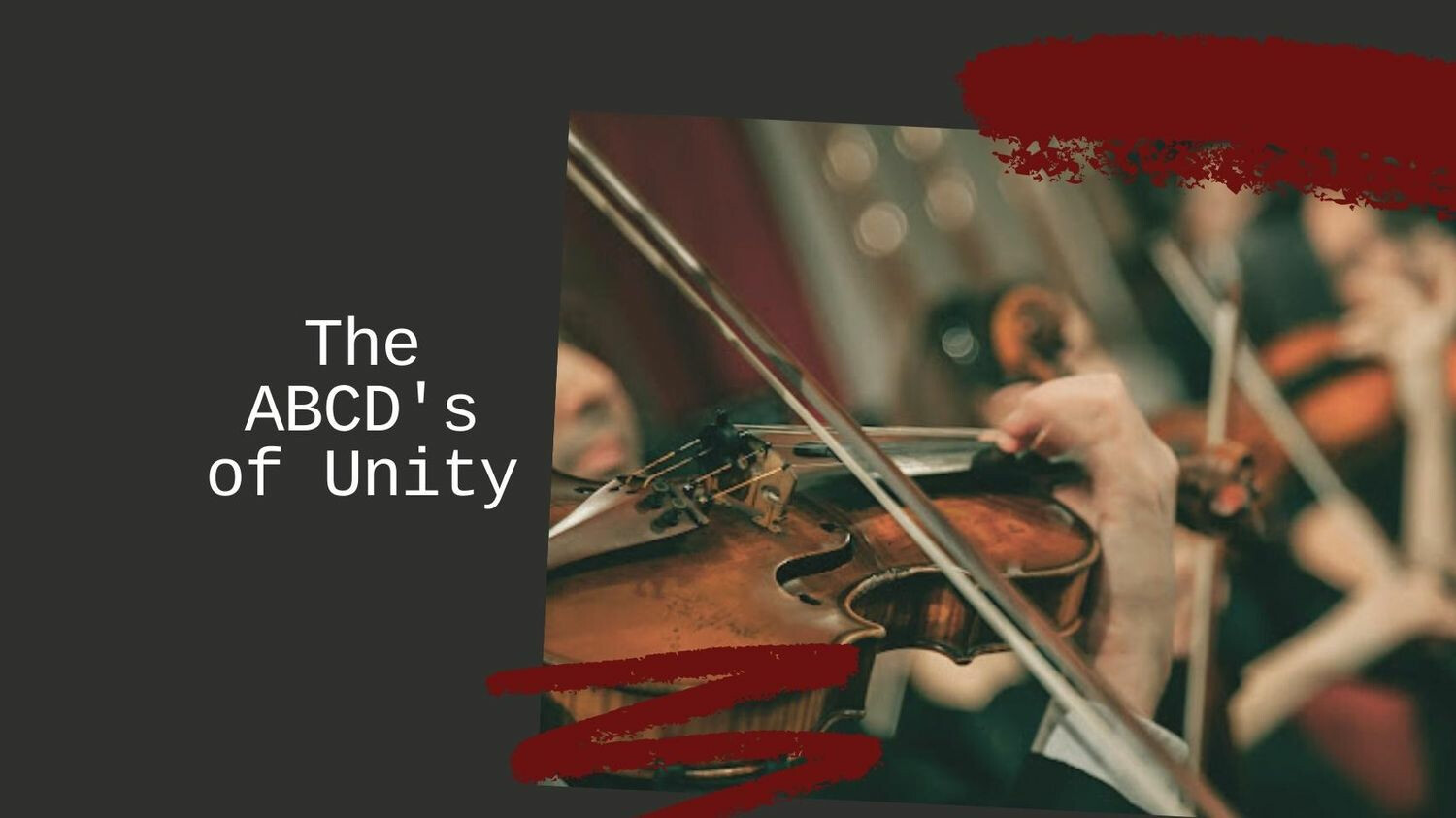 SCRIPTURE
"Make every effort to keep the unity of the Spirit through the bond of peace." Ephesians 4:3 NIV
SPOTLIGHT
People are very diverse. Culture, background, education, wealth, personality, color, beliefs, values, convictions and so much more, make people very different. Experiencing unity with people is very rare. More things divide people in today's world than unite them. However, the Bible teaches that unity is so very important. Someone has said that, "Unity is the desire of the Savior, the delight of the saved and the dread of Satan." Jesus desires that His church be the best earthly expression of unity. He prayed that in John 17. It is not found at the happy hour spot, or the gym, or the community club. When people gather together to worship God the Father, God the Son, and God the Holy Spirit in a church building or home, they are expressing the unity that exists within the Trinity. Where there is Christ-centered unity, Christians delight in the love, acceptance and forgiveness that is expressed. All of this is the dread of Satan who knows that when Jesus Christ's Church is unified, there is no telling what can be accomplished for God's honor and glory.
Here is what you need to know in order to know why God wants you to be in unity with other believers. THE A,B,C,D's OF UNITY are:
#1. Unity is ACHIEVABLE. Romans 15:5 states, "Now may the God who gives perseverance and encouragement grant you to be of the same mind with one another according to Jesus Christ." [NASB.] The local church is composed of many personalities making up one team. Unity is achievable as all of the members follow only Jesus Christ. All the believers have many giftings, but only one goal as stated in Romans 15:6, "So that with one heart and mouth, you may glorify the God and Father of our Lord Jesus Christ."
#2. Unity results in BLESSING. Psalm 133:1 states, "Behold how good and how pleasant it is for brothers to dwell together in unity." [NASB.] When people are unified, everyone enjoys the peace and harmony. This makes living together so enjoyable. Psalm 133:2,3 describes unity as being like oil and dew. The blessing of unity is compared to the lubricating power of oil and refreshing power of dew.
#3. Unity is a COMMAND. Jesus Christ prayed for all believers to be marked by the unity as it is seen in the Trinity. "I have given them the glory that You gave Me, that they may be one as We are one: I in them and You in Me. May they be brought to complete unity to let the world know that You sent Me, and have loved them even as You have loved me." [John 17:22,23.] Christ's prayer underscores the all-important necessity of being unified. Disunity will never command the attention of the world to realize the love Jesus Christ has for all people. The unity exhibited amongst believers compels the world to see grace, acceptance and forgiveness in action. What a powerful testimony to society of getting along, when a church is composed of rich and poor, educated and uneducated, and different nationalities all worshipping the Father, Son, and Holy Spirit.
#4. Unity requires DILIGENCE. Ephesians 4:3, in the New American Standard Bible, puts it this way, "Be diligent to preserve the unity of the Spirit in the bond of peace." Believers are called to make every effort to be unified. Unity takes work, but unity's reward is peace. Please note that true unity cannot be created by people, but only by the Holy Spirit. Organizations and human effort will not create unity. Only a commitment to Jesus Christ and His truth will birth unity.
Just think of the power of unity as being like a 100-piece orchestra, made up of so many different types of instruments, all tuned to the same note, playing in harmony, the most beautiful music. When believers in your church are tuned to Jesus Christ, all the people together present to society, the most beautiful music about the Good News.
SOMETHING TO DO
#1. What are 3 specific things you can do to be diligent in preserving the unity within your church? You cannot say pray and read your Bible. That is already expected. Pray and ponder about 3 steps you can take to make your church family more unified than ever before.
#2. Read Romans 12:3-13. Now make a list of things you are told to do to create harmony within your church.
SOUL TIME PRAYER
Heavenly Father, Jesus Christ the Son and Holy Spirit, You are three in one. Thank You for showing me the most powerful example of unity. Daily show me how to be unified with my Christian brothers and sisters. Guard me from being opinionated and guide me to communicate truth. AMEN.