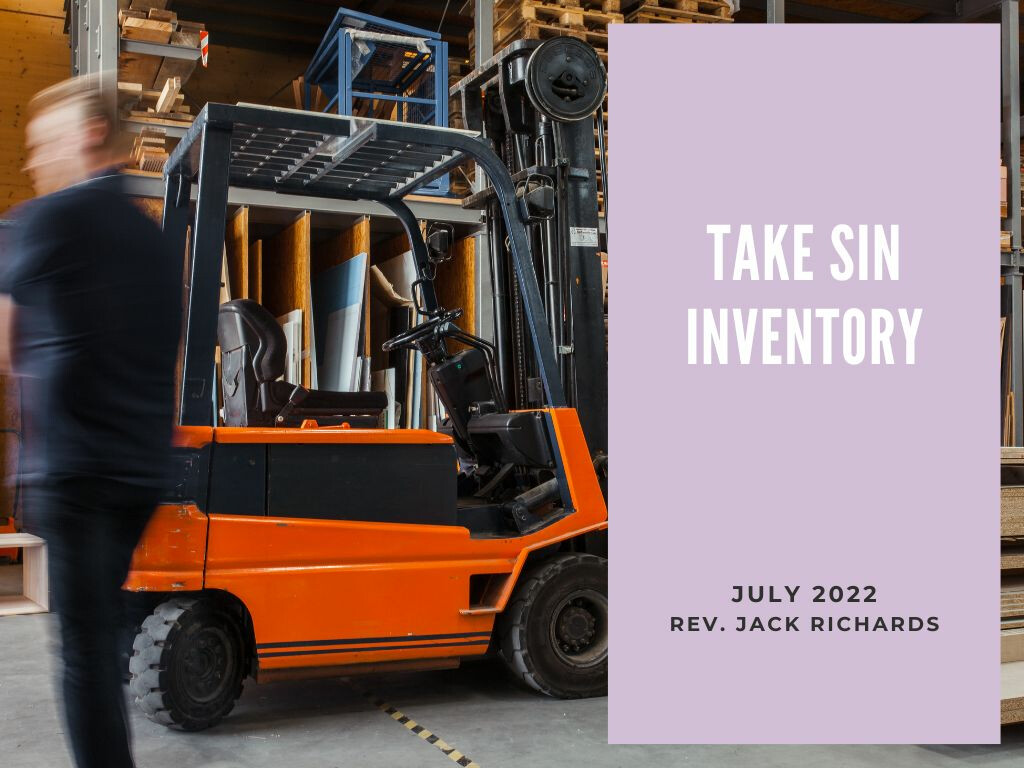 SEARCHLIGHT
Is there any benefit to examining your own heart?
SCRIPTURE
"FOR I KNOW HOW MANY ARE YOUR OFFENSES AND HOW GREAT YOUR SINS. AMOS 5:12a NIV
"FOR MANY AND GREAT ARE YOUR SINS. I KNOW THEM ALL SO WELL." AMOS 5:12a Living Bible
SPOTLIGHT
Alexander Whyte was a truly great preacher/pastor in Edinburgh, Scotland during the 1800's. It was said of Whyte that, "In his preaching, Whyte magnified the vileness of sin and the graciousness of Christ. His sermons were surgical." [Wiersbe, Walking With the Giants, p.92.] An evangelist came to Edinburgh and criticized the ministers of that city saying that Whyte along with others were not converted. When the great preacher heard these words, he did not become defensive or angry but sat down, put his face in his hands, and was silent for a long time. Then he lifted his head and told his visitor, "Leave me, friend, leave me friend! I must examine my heart!"
TAKE SIN INVENTORY! People do not like this type of devotional. Raw truth is never popular. However, Amos, the prophet told the Israelites to examine their hearts with the greatest of honesty. The reason he gave is so very clear in the above Scripture text. God knows all of your sin. He is fully aware of both the big ones and smaller ones. Why ignore this truth? We should respond like Alexander Whyte.
People are very good at making lists. There are, "TO DO" lists, grocery lists, Christmas gift lists and so many more. Companies make long lists when they take inventory. Amos provided many lists of sins that the people were guilty of in his book. In Amos 2:6-16, he mentions bribery, greed, adultery, immorality, selfishness, ingratitude, drunkenness, and rejecting God's revelation. In Amos 4:1-13, he cites women living in careless luxury. In Amos 6:1-6, he identifies indifference, indulgence, injustice, immorality, and idolatry. In Amos 8:4-14, Amos mentions robbing the poor, complaining about holy days and charging excessive prices that hurt the poor.
Are you guilty of any of those sins? You need to examine your heart just like Whyte. The Bible says, "Check up on yourselves. Are you really Christians? Do you pass the test? Do you feel Christ's presence and power more and more within you? Or are you just pretending to be Christians when actually you aren't at all?" 2 Corinthians 13:5 Living Bible
Here are some benefits from taking a sin inventory;
#1. SALVATION – You may realize you are separated from God and not yet born again.
#2. SANCTIFICATION – You may realize you need to surrender some part of your life to become more like Jesus Christ.
#3. SPIRITUAL DANGER – You may realize you are being tempted by Satan to believe that something is good, but it will lead to evil.
#4. SELF EXAMINATION – You may realize before taking Communion your need for repentance and confession. [See 1 Corinthians 11:23-32.]
#5. STRONG CHRISTIAN – You may realize that the opposite of this list of sins, are qualities you want to develop. Rather than ingratitude, you will pray to develop gratitude, rather than stealing, giving.
Always remember that your spiritual health is your greatest wealth. Amos is encouraging you to be holy in your private life, be humble in your public life, and be honorable in your personal life.
SOMETHING TO DO
Make a column list of all the sins listed above from the book of Amos. Now prayerfully examine your heart as you consider each one. For every sin listed, think of a Godly quality that is the opposite. Pray that God would develop these qualities within you.
SOUL TIME PRAYER
Heavenly Father, Thank You that You are gracious, merciful and forgiving. Give me a tender heart to hear the voice of the Holy Spirit, so that I may become more like You and far more aware of sin in my life. AMEN!