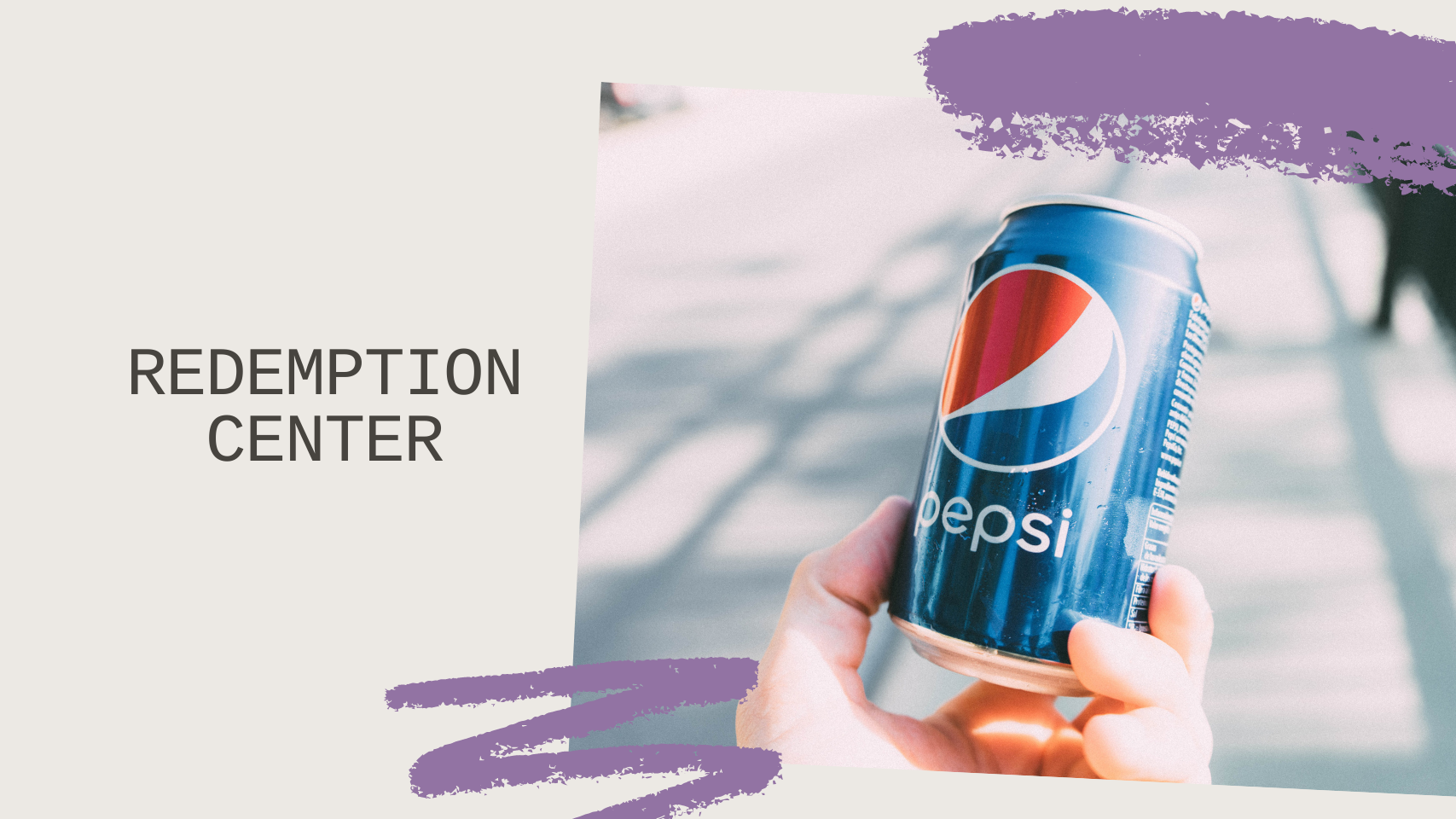 SCRIPTURE

"In him we have redemption through his blood, the forgiveness of sins, in accordance with the riches of God's grace that he lavished on us. With all wisdom and understanding he made known to us the mystery of his will according to his good pleasure, which he purposed in Christ, to be put into effect when the times reach their fulfillment - to bring unity to all things in heaven and on earth under Christ." Ephesians 1:7-8
SPOTLIGHT
As I was driving by a convenience store, I saw a sign that read "Redemption Center." I could not help but smile because the word "redemption" means, "the action of saving or being saved from sin, error or evil." Years before, I had asked Jesus Christ to become my Redeemer and save me from my sin, error and evil. For the convenience store, the word "redemption" meant that it bought back soda/pop cans for five cents apiece, and then recycled them. Apparently, the cans were going to get another life. I had a garbage bag filled with cans in my backseat, so I pulled in to "redeem" them.
In some ways, all of us are like a soda can. Before a can makes it to the Redemption Center, it had value by being full of a refreshing drink. Then it was purchased, opened, the contents were consumed/used, and the can ended up empty, useless and tossed into a garbage bag. At that point in the life of a soda can, it appeared that it had completed its purpose and was no longer valuable. But someone said there was still value and usefulness in the used soda can. The can itself could be, "redeemed." So, the idea of creating a redemption center was born, where any can could be crushed, recycled and made into something new.
People are normally full of life up until they feel like they have been, "purchased, opened, used, emptied, become valueless and tossed away." You know people like that. Maybe it is you or someone you dearly love. You feel empty and even worthless. Life seemed hopeful, but now it seems hopeless. Perhaps, some people caused you to feel used, or abused, and empty. Maybe you made some errors that almost ruined you. A self-centered lifestyle will bring destruction. You can end up feeling like you are being tossed out.
Behind this feeling of uselessness is sin and evil, which ultimately always brings disaster to anyone. But God says there is still value and usefulness in your life, regardless of how you feel. So, He did something significant about this problem by sending His Son to become your Redeemer. Paul clearly pointed out to the Ephesian Christians, that God designed a plan called "REDEMPTION." Through the blood shed by Jesus Christ, forgiveness and newness in life can be experienced by everyone who believes.

The word "REDEMPTION" is filled with such a special meaning for anyone in need of self- worth, identity, hope and help. Sin messes you up. God blesses you up by giving His Son to become your Redeemer. Putting it another way, Jesus offers redemption by providing a recycling program so that you can become something brand new, filled with purpose and usefulness. You have experienced the crushing of sin and evil which has almost brought you to disaster and ruin. When you make Jesus your Redeemer, He brings goodness, honor and meaning into your recycled life. You are given a second chance to start over and discover your true purpose.
Redemption is needed by everyone. Everyone who is broken, shunned, disregarded or violated, needs to be redeemed by Jesus Christ. Redemption means you are repurchased, reclaimed, recovered, retrieved, repossessed, and reformed. And it's all because of Jesus.
SOMETHING TO DO
Have you asked Jesus Christ to be your personal Redeemer? Yes, He died on the cross and shed His blood for your sin, but you have to personally confess to Him your need to be forgiven, and your desire to be "recycled." This means you want Jesus to give you a fresh start and a new life.
When you know that you have been redeemed by Jesus Christ, then do the following:
1) Write down 3 errors you made that were ruining your life before you asked Jesus to redeem you. Now write down 3 ways your life has changed because you invited Jesus Christ to be your Redeemer.
2) Where was your Redemption Center? Was it by your bed, in your car, or at church when you asked Jesus Christ to redeem you?
SOUL TIME PRAYER
Heavenly Father, as I bow my head to pray, I can't help but think that I may not have been alive today, had it not been for the fact that Your Son, Jesus Christ, became my Redeemer and recycled my life into something meaningful and useful. Thank You. AMEN.