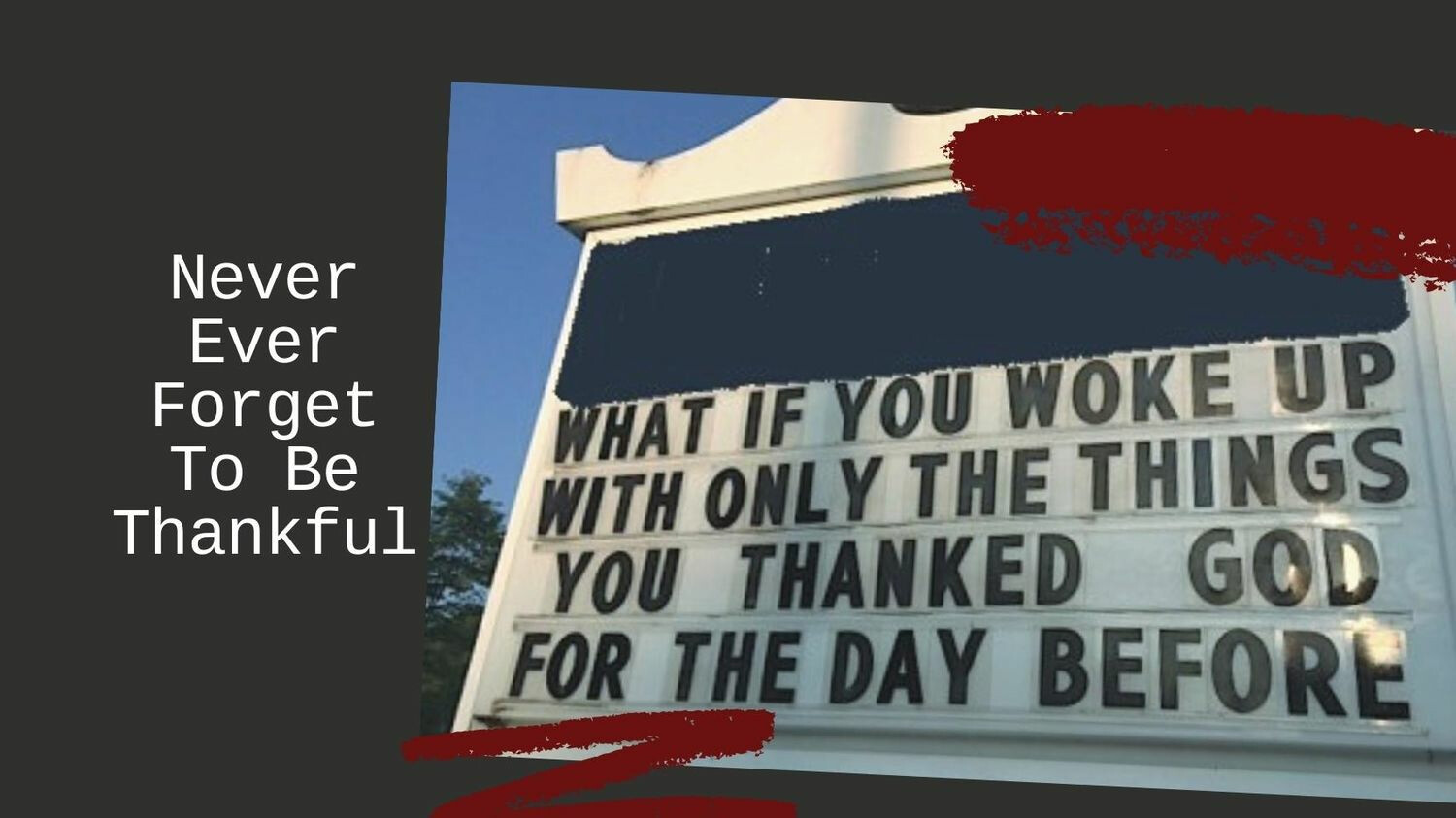 SCRIPTURE
"Give thanks in all circumstances; for this is God's will for you in Christ Jesus." 1 Thessalonians 5:18 (NIV)
"No matter what happens, always be thankful, for this is God's will for you who belong to Christ Jesus." 1Thessalonians 5:18 (Living Bible)
"In everything give thanks; for this is the will of God in Christ Jesus for you." 1Thessalonians 5:18 (NKJV)
SPOTLIGHT
"WHAT IF YOU WOKE UP TODAY
WITH ONLY THE THINGS THAT
YOU THANKED GOD FOR YESTERDAY?"
That was written across a roadside billboard somewhere in California. It also appears on plaques, as well as coffee mugs. What a thought-provoking question. It challenges you to assess how grateful a person you are.
NEVER EVER FORGET TO BE THANKFUL! This is the instruction Paul gives to the Thessalonian Christians as seen in the above text. Paul just does not challenge believers to be thankful, but to live a thankful life all the time, regardless of what is taking place. To be quite frank, this can be very difficult to do. Who thinks of being thankful when you have just had a car accident, or a tooth pulled at the dentist's? Who remembers to be grateful when you just forgot to keep an appointment, or when someone spoke wrongly about you?
It is very important to realize what God wants a believer to learn from this verse:
#1 A believer is instructed to be thankful. This is not a choice, or a consideration, but a command to be carried out. Obviously, God is saying that a person will live better with a grateful heart.
#2 A believer is to be grateful regardless of what is happening. He/she is not told to be thankful for bad things that are happening, but rather to remember to live a life filled with gratitude, even when bad things do happen. God is saying that a person needs to be thankful to God for what is good, in the midst of what is bad.
#3 A believer is to do this because it is God's will. The truth is that a grateful person will be far more able to overcome difficulties in life, because he/she is grateful. His/her perspective will be hopeful, and positive, because it is based on faith in God to get through the hard times.
The question you are thinking is, "How is it possible to be thankful when bad things are happening?" Suppose your car broke down when you are on your way to a very important appointment. Your focus is on what will be the repercussions from missing this long-scheduled meeting. Your mind is filled with questions like; What will be the loss? How far will this set me back? Will I be able to reschedule? What is it going to cost to get my car fixed?
What is most important is to not lose sight of the fact that in spite of problems, obstacles, or accidents, you can still thank God for the bountiful blessings He has given you. Everything revolves around the perspective you have. No matter what is happening, there is always something that you can be thankful to God for. Perhaps you avoided being in a 4 car accident. When you get to heaven, God is going to show you all the ways He protected you, that were never noticeable to you. The reason is because God orders the steps, and the stops, of a righteous person. [Psalm 37:23.]
Many years ago, Matthew Henry, noted author of the Mathew Henry Bible Commentary, was robbed. Most people would have felt upset, fearful, or angry and desired retribution. What Henry did was very different. He prayed, "I thank Thee first because I was never robbed before; second, because they took my purse, they did not take my life; third, although they took my all, it was not much; and fourth, because it was I who was robbed, and not I who robbed." What an amazing example of being thankful in all circumstances!
In the book of Philippians, Paul gives another challenging instruction that is somewhat parallel to the one the Thessalonian Christians received. He told them to, "Rejoice in the Lord always, I will say it again; Rejoice." [Philippians 4:4.] The challenge is to "always" rejoice even when things are not going well. Be filled with the joy of the Lord in all situations. Times can get tough, but continue to praise God, and you will experience the strength of Godly joy.
Here is the bottom line. Will you trust that God's instruction is best for you regardless of what you are facing? Will you obey God's instruction to always be thankful and rejoice regardless of how you feel? You may have to work at it. There you are. Unexpected troubles have arisen. Just begin to thank God for Who He is, and what He has done for you in the past. The fact is that God's will is for you to always be thankful and rejoice. Your emotions may not match your faith, but you are to live by faith and not emotions. "Praise God from Whom all blessings flow."
This is how your emotions will catch up with your faith. NEVER EVER FORGET TO BE THANKFUL.
SOMETHING TO DO
To complete today's devotional thought, you will need to write down some things throughout the day. When you are having a lunch break, or driving in the car, ponder the following;
#1 Identify 3 things you can thank God, for being God.
#2 Name 3 things you can thank your spouse, or closest friend, for being who they are.
#3 List 3 things you possess that you would not have, if you had not become a believer.
#4 Write down 3 ways you have seen God impact your life.
#5 Find 3 Scripture verses directing you to be a very thankful person.
SOUL TIME PRAYER
Heavenly Father, Almighty God,
We do not want to be in any way forgetful
but instead very mindful that You are the
Creator of life,
Author of good and not evil,
Giver of every blessing and the
Revealer of truth and wisdom.
You forgive us our sins
provide for us all we need - food, home, jobs, clothing
bless us with freedom, family, friends
deliver us from our fears
renew our spirits when facing problems and pain
give us hope for tomorrow and eternity.
And you prove all this by loving us to the point of giving Your Son, Jesus Christ to die for our sin, and become our Savior and Friend.
This is truly the greatest of all blessings!
So, we humble ourselves by not taking the credit for who we are, or what we possess, but instead offering to you, our gratitude and thanksgiving, for all these blessings.
And we confidently do this by praying in the name of Jesus Christ.
Amen.