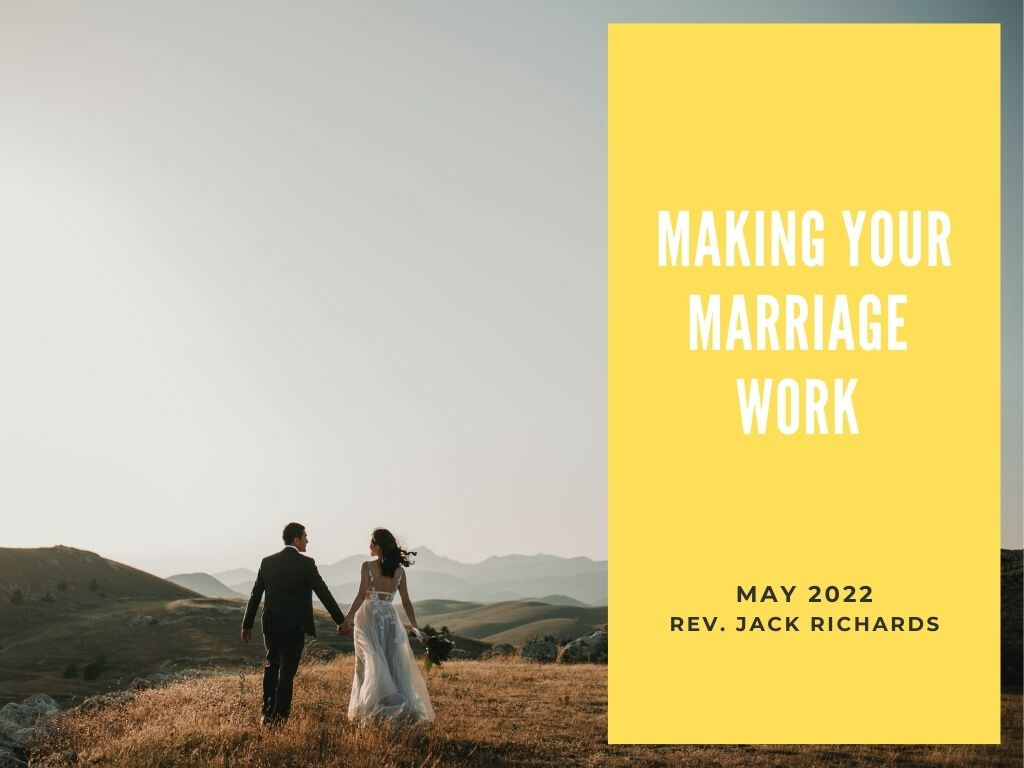 SEARCHLIGHT
Where have you come from, and where are you going? How do you find answers to these significant questions which people have asked from the beginning of time?
SCRIPTURE
"HIS LEFT ARM IS UNDER MY HEAD AND HIS RIGHT ARM EMBRACES ME." SONG OF SOLOMON 2:6; 8:3
SPOTLIGHT
Did you know that the Bible directs a husband to sleep on the right side of the bed, and his wife to sleep on the left side? Two times this direction is given in Song of Solomon. Carefully reread the above Scripture. [Just a little bit of humor.]
Song of Solomon, or Song of Songs, is a beautiful love story written by King Solomon. Much can be learned about MAKING YOUR MARRIGAGE WORK in this book. A quick read will reveal three things a husband and wife are to be in order for their marriage to not just survive but thrive.
In the first place, it is very important that after a couple marry, they commit themselves to continue to be interesting. When you first met, or dated your lover, something interesting about you captured his/her heart. You were captivating. The spark of interest grew to holy matrimony. Don't lose the spark once you get the ring. Be interesting for the rest of your life. Ask your spouse what the drawing power was when you first met. Then develop it. In addition, be creative. Come up with new things to make yourself more interesting. If your idea of fun is watching a movie, then suggest going biking. Don't forget that those first dates were so interesting they led to a proposal and then marriage. Don't lose the dating luster. Don't stop dating after the children come.
In the second place, it is important that a married couple be interdependent. You have three choices. Your marriage can be built on being independent, dependent, or interdependent. When marriage partners are independent, they are much like two ships passing in the night. The husband and wife create two worlds rather than one. The Bible explicitly instructs two people to become one flesh. Marriage is the union of two personalities, much like two mighty rivers flowing together to become one amazing, powerful and beautiful river.
When marriage partners are dependent, they are so reliant upon each other they are much like identical twins. They become inseparable to the point that they do not function well if they are not close by each other. How unhealthy! I remember one woman who lost her husband and described how she did not even know how to write a check in order to pay the bills. In her elderly years, for a while, she had to rely upon other people to teach her certain skills.
When marriage partners are interdependent, their relationship will mirror the one described in Proverbs 31:10-31. Both husband and wife will be trustworthy and richly satisfy each other's needs. They will be helpful and not hindering. Both will bring an energy, excitement, and industriousness to the relationship. Both will give to each other strength, dignity, wisdom and kindness. Neither will be lazy or selfish. Both husband and wife will say of each other, "There are many fine marriage partners in the world, but you are the best of all." [Proverbs 31:29.]
Thirdly, it is most important that a married couple be intimate. Just read Song of Solomon. You will see this couple express their love to each other. Union leads to communion, which means exchanging intimate thoughts and feelings, which flow from the depths of your soul. Your communion with your spouse is on three levels: emotional, physical and spiritual. You must work at communing on all three levels. Then you truly become one just as God said in Genesis 2:24, "For this reason a man will leave his father and mother, and be united to his wife, and they will become one flesh." Jesus added these words, "So they are no longer two, but one. Therefore, what God has joined together, let man not separate." [Mark 10:7-9.]
A pastor was doing premarital counseling with a couple. They had written their vows and wanted to read them to him. They got to the final line of commitment which stated, "for richer, for poor, in sickness and in health, until we no longer love each other." Their explanation for those words was that sometimes couples fall out of love and should not be required to remain married and unhappy for the rest of their lives. They believed everyone has a right to be happy. Society had gotten to them. Self was most important. They had not learned what God wanted them to learn about marriage. Two people can become strongly united. Marriage does not need to just survive but can thrive. Marriage can work when God is at the center and it is done God's way.
SOMETHING TO DO
What steps can you take today to make your marriage stronger than yesterday? What long range plan do you have to make your marriage not just survive but thrive?
SOUL TIME PRAYER
Heavenly Father, You are the Creator of life. You have ordained that marriage to a man or woman, is very good. Guide those who seek to find a mate and help those who have a marriage partner to honor each other. May our community, church and nation, reflect the beauty of marriage as You have intended it to be. AMEN!