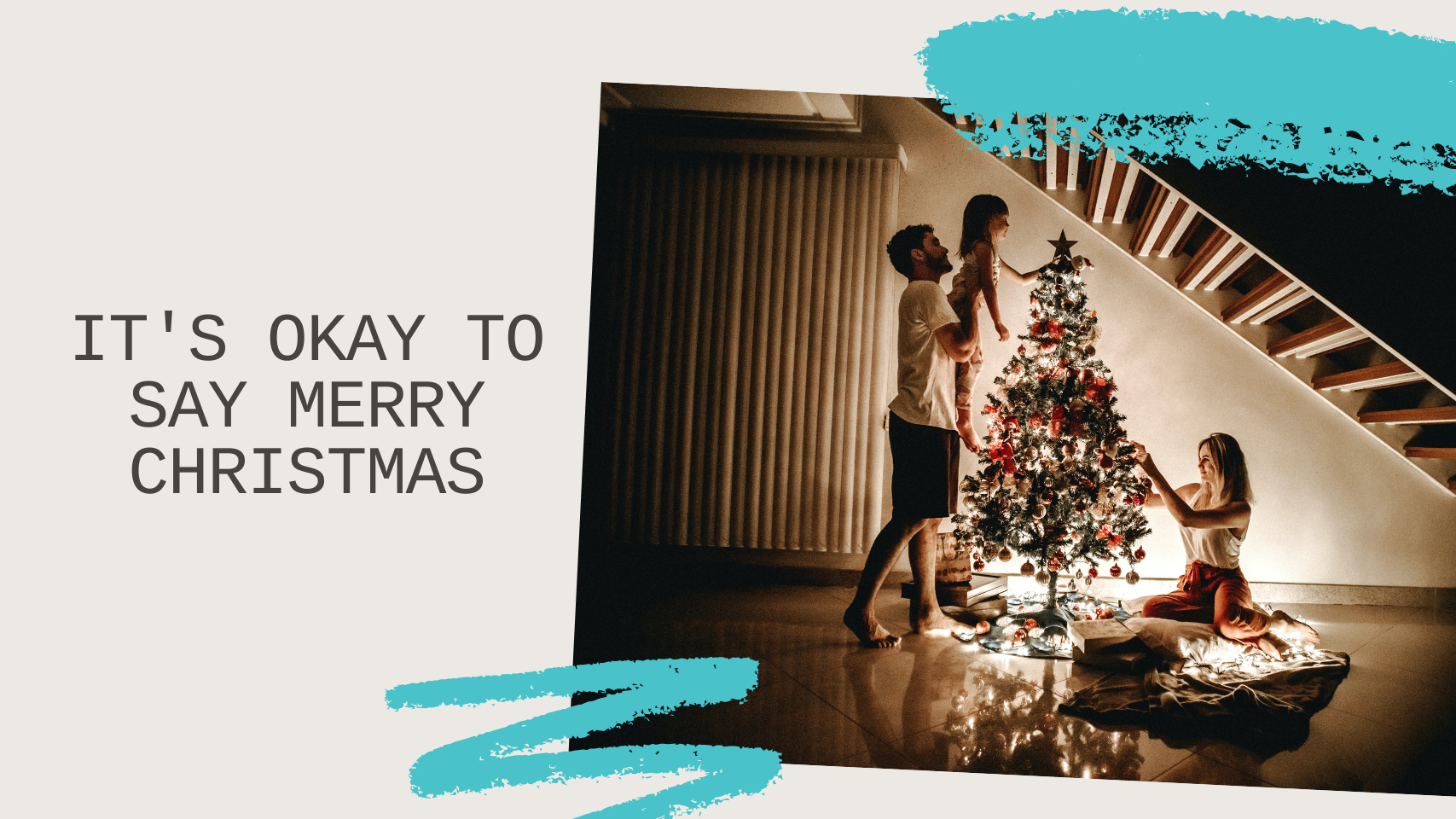 SCRIPTURE

"All this took place to fulfill what the Lord had said through the prophet: "the virgin will be with child and will give birth to a son, and they will call him Emmanuel" - which means, "God with us." Matthew 1:22-23
SPOTLIGHT
Due to the political correctness, disinformation, and even the threat of lawsuits, religious expression at Christmas has become increasingly absent from the marketplace. Stores have become, "anti-Merry Christmas." One man said his company has moved from having a Christmas party, to a holiday party, and now to an end-of-the-year celebration.
A 2019 Gallop poll clarifies the issue. Ninety three percent of Americans celebrate Christmas. In other words, they do not just celebrate, "Happy Holidays." People are engaged in activities that focus on this religious tradition called Christmas.
IT'S OK TO SAY, "MERRY CHRISTMAS." This Christian celebration was not dreamt up by someone who wanted to create a nice gift giving time of the year. The Bible identifies the reason for the season. The living God left heaven and visited planet earth. Throughout the Old Testament, there are many prophecies promising the coming of the Messiah who was to be the promised deliverer of the Jewish nation. The prophet Isaiah predicted the birth of the Messiah 600 hundred years before Jesus Christ was born. "Therefore, the Lord Himself will give you a sign: The virgin will conceive and give birth to a Son and will call Him Emmanuel." [Isaiah 7:14]. "For unto us a Child is born, to us a Son is given, and the government will be on His shoulders. And He will be called Wonderful Counselor, Mighty God, Everlasting Father, Prince of Peace." (Isaiah 9:6,7).
In the New Testament, Matthew, who was one of Christ's disciples, wrote his book particularly for a Jewish audience. He wanted to convince them that Jesus Christ was the Messiah by proving Christ had fulfilled the Old Testament prophecies. In our Scripture text today, Matthew 1:22,23, Jesus is identified as being Emmanuel. Later Matthew wrote, "…for this is what the prophet has written: "But you, Bethlehem, in the land of Judah, are by no means least among the rulers of Judah; for out of you will come a ruler who will shepherd My people Israel." (Matthew 2:5,6).
Doctor Luke, who wrote to a Gentile audience said, "Today in the town of David a Savior has been born to you; He is the Messiah, the Lord. This will be a sign to you: You will find a baby wrapped in cloths and lying in a manger." Suddenly, a great company of the heavenly hosts appeared with the angel, praising God and saying, "Glory to God in the highest, and on earth peace to those on whom His favor rests." (Luke 2:11-14).
Just stop and think about this unbelievable historical fact. God came down! God is with us! The living God left heaven and visited planet earth. He did not have to come. But He wanted to come! He could have sent a representative like an angel, but that was not personal enough, so He came Himself. The living God, who created this universe, came to live with us and identify with us. Wow!
Christmas is Christ. Christ is God with us. He is the reason for the season. Give Jesus Christ to people. Tell them God the Father gave the greatest gift of all, namely His Son to be the Savior of the world. IT'S OK TO SAY, "MERRY CHRISTMAS."
SOMETHING TO DO
Wish people "Merry Christmas," rather than just saying, "Happy Holidays." When sending a Christmas greeting in a card or by email, write a few lines expressing the reason for the season. Here is an example:
"Praying that you will be blessed by the Christ of Christmas."
Ask the Holy Spirit to show you other meaningful ways you can help make Christ be the focal point of the Christmas season.
SOUL TIME PRAYER
Almighty God, You created the universe but did not abandon us. You sent your Son, Jesus Christ into our world, so that we might know who You are. Thank You for making Yourself real to us. Help us to share this Good News. AMEN!