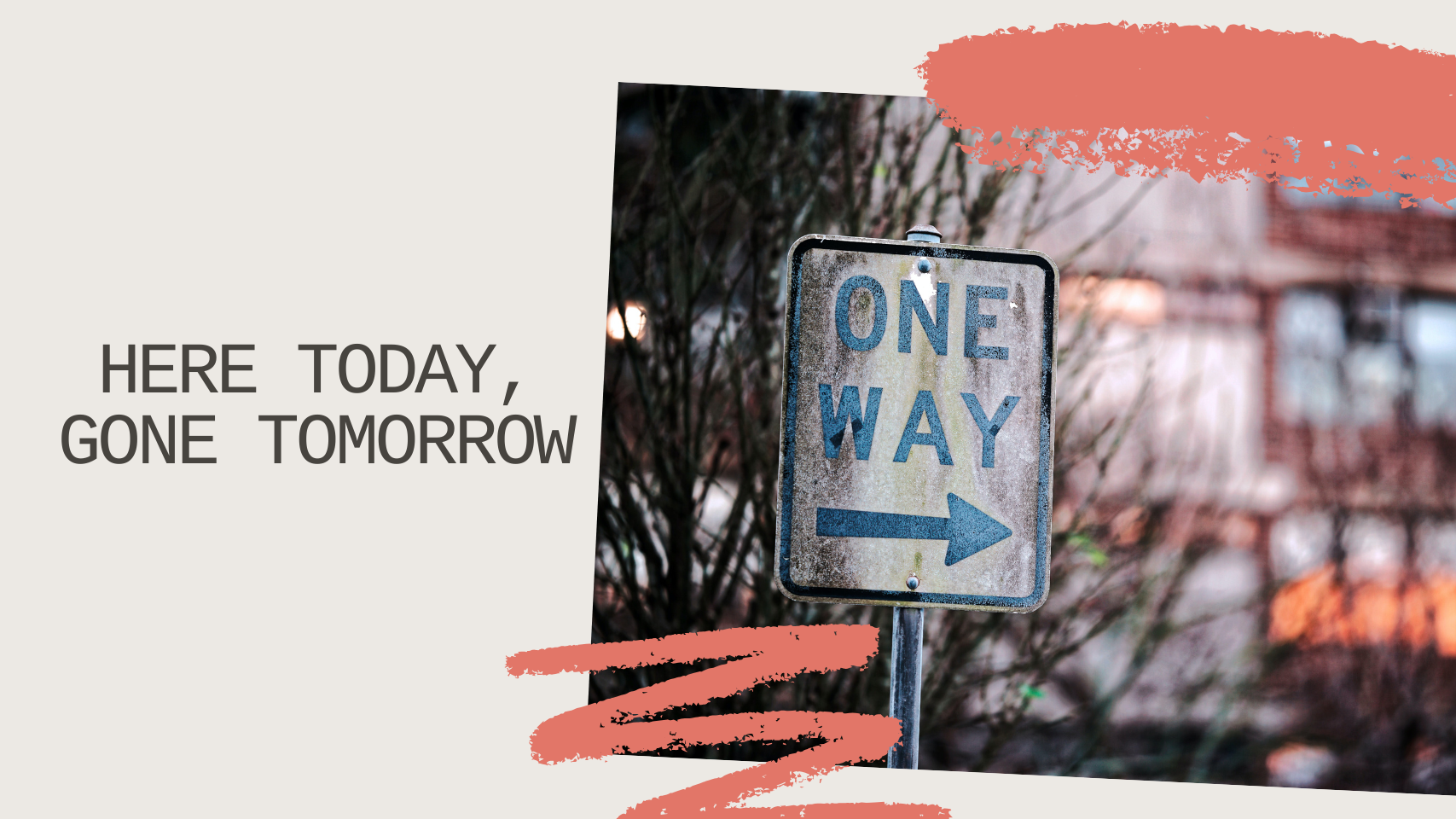 SCRIPTURE

"Yes, a wise man thinks much of death, while the fool thinks only of having a good time now." Ecclesiastes 7:4
SPOTLIGHT
Sometimes people make statistics say what they want others to hear. Other times statistics are altered. There is one statistic that says the same thing all the time and it never can be changed. When it comes to life, everyone dies. Kerry and Chris Shook said, "… the human death rate is at a constant 100%. You can't avoid it; you can't cheat your way around it."
Engraved on a tombstone are the words, "I expected this, but not just yet!" Why do people avoid thinking about death? Someone said, "Life is a one-way street – we are not coming back." If you are on a one-way street you want to be sure that you are heading in the direction that you want to go. Woody Allen said, "I'm not afraid to die. I just don't want to be there when it happens." Dying is the last thing everybody does whether they intend to or not. Robert Burton said, "The fear of death is worse than death."
God desires that death not be ignored or feared, but planned. Consider it like going on an adventure. When you consider death, you are planning for your future. Death for a Christian is the gateway to life. But too many people do not consider the fact that they are going to die. Someone said, "Many who expect to be saved in the 11th hour die at 10:30." Preparation for dying is so important. Consider the fact that, "No one ever repented of being a Christian on his deathbed."
The Bible encourages people to think about death in order to experience freedom from the fear of death. The book of Ecclesiastes focuses on the purpose of living and dying. Here are five questions that need a response from everybody:

1) If my death occurred tomorrow, my funeral would be arranged by……?
2) If my death occurred tomorrow, I would want my funeral to include what favorite Scriptures and Christian songs……?
3) If my death occurred tomorrow, the money needed to pay for my funeral would come from……?
4) If my death occurred tomorrow, the thing I would regret the most by not making my funeral arrangements would be……?
5) If my death occurred tomorrow, I am sure that I would spend eternity in…...?
Once you are ready to die, then you are ready to live. 1 John 5:11,12 states, "And this is the testimony - God has given us eternal life, and this life is in His Son. He who has the Son has life; he who does not have the Son of God does not have life."
Years ago, I chose a Bible life verse to be my goal, purpose and mission on earth. Philippians 1:21 states, "For to me, to live is Christ and to die is gain." [NIV]. In a nutshell, that is the reason why I live. I particularly like the Living Bible paraphrase of this verse which says, "For to me, living means opportunities for Christ, and dying – well, that's better yet." I live each day knowing that God has a purpose for my life, and look forward to someday seeing Jesus Christ, my Savior and Lord, face-to-face.
You are here today and gone tomorrow. Are you living life to its fullest today and are you anticipating leaving earth tomorrow?
SOMETHING TO DO
Write out your answers to the five questions listed above. Talk over your answers with the people that you are closest to. Tell them you are not being fatalistic, but anticipating a wonderful, eternal adventure. Make any preparations that are necessary in order for the five questions to be complete.
SOUL TIME PRAYER
Heavenly Father, I am so blessed to know that You gave Your Son Jesus Christ to die on the cross for my sin, so that I might experience eternal life with You. Help me to finish life well on earth, and thank You that my eternal future is totally in Your hands, upon confession of my faith in You! AMEN.