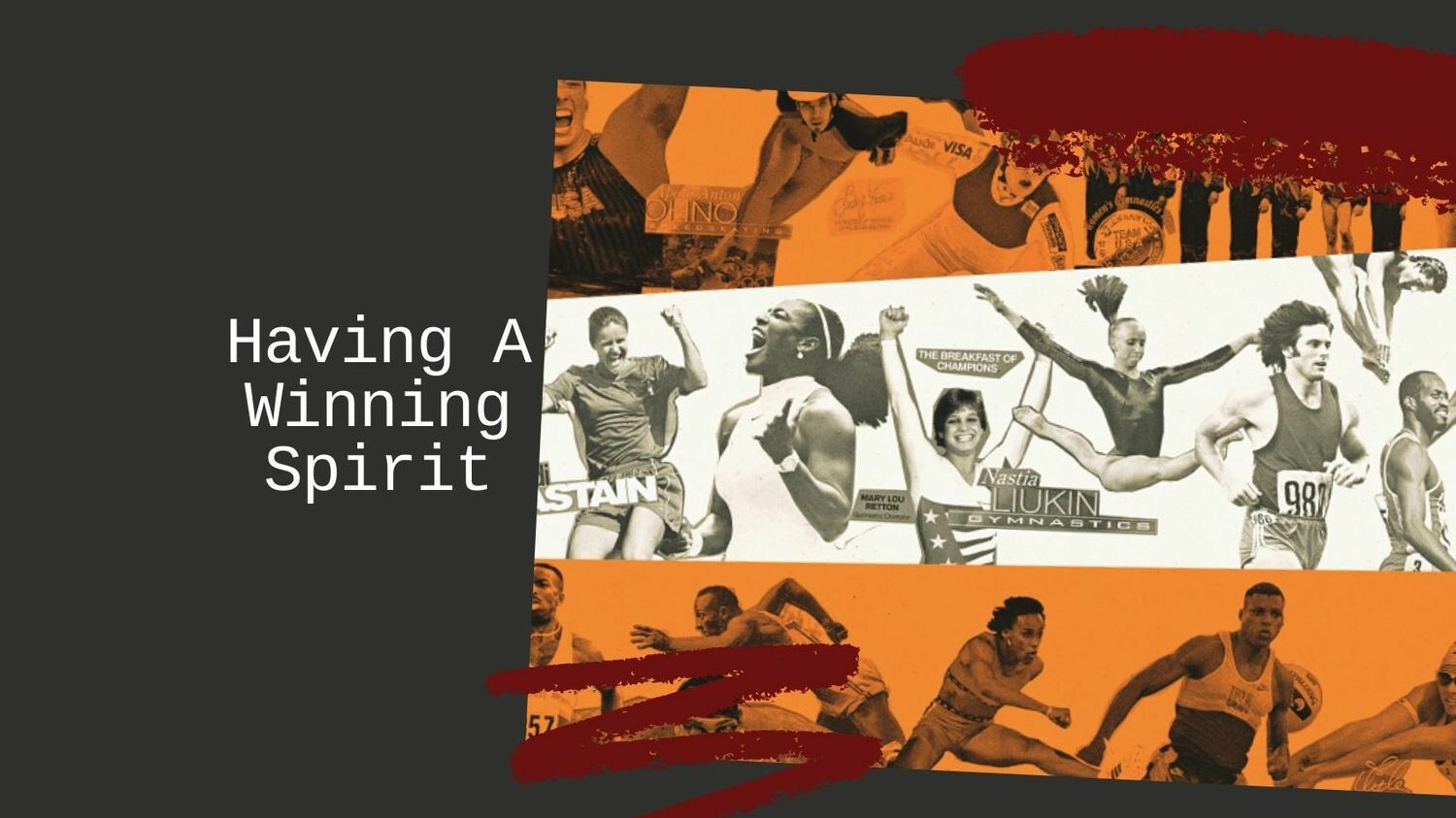 SCRIPTURE
"…I press on to take hold of that for which Christ Jesus took hold of me…straining toward what is ahead, I press on toward the goal to win the prize for which God has called me heavenward in Christ Jesus." Philippians 3:12,13c,14
SPOTLIGHT
During the 1984 Olympics, a 4'9" teenager named Mary Lou Retton, won the hearts of Americans. She captured the gold medal in the women's all-round gymnastics competition and won two silver, and two bronze medals, in team and individual events. She scored a perfect "10" in the vault, and was the first American woman ever to win five Olympic medals in gymnastics.
Mary Lou is an outstanding example of a winner. But let's ask, "Why?" Did she eat, "Wheaties – the Breakfast of Champions" every day? Yes, she did. In fact, she became the Wheaties spokesperson, and appeared on the cover of the Wheaties box for a long time. However, she also had a winning spirit.
HAVING A WINNING SPIRIT describes a person who desires not just to set a goal, but also reach it. A goal is set, and a plan of action to achieve the goal is devised. Mary Lou set her goal to win as many gold medals as possible. Her winning spirit became apparent in her training sessions. Those sessions could last as long as five hours a day, six days a week. Yet, like all great champions, she never had to be pushed. Her coach explained, "It's always, "Yes, let's go!" What focus, determination and persistence. Focus means having a goal. Determination means being totally convinced that goal is worthy of your time. Persistence means you apply yourself to the course of action to achieve the goal.
The Apostle Paul had a similar winning spirit when it came to wanting to know Jesus Christ better, and also sharing the Good News of the Gospel with the whole world. He told the Philippian Christians, "I strain to reach the end of the race and receive the prize for which God is calling us up to heaven, because of what Christ Jesus did for us." [Living Bible.] In the Passion Translation, it reads, "I run straight for the divine invitation of reaching the heavenly goal and gaining the victory-prize through the anointing of Jesus." In the New life Version, it states, "My eyes are on the crown. I want to win the race, and get the crown of God's call from heaven through Christ Jesus." The goal is the prize of heaven, which means seeing Jesus face to face. The plan of action is to press on, strain, and run straight by keeping your eyes on the prize. The empowerment to do this is not yourself, but Jesus Christ.
Do you have that winning spirit that makes you diligent in wanting to know Jesus Christ more today than yesterday? Do you also have that passion to win as many people to Jesus? Two times in our Scripture text above, Paul says, "I press on…" Do you share in Paul's focus, determination and persistence? Just as great champions never have to be pushed, so great Christians never have to be pushed. They are so motivated by the fact that Jesus Christ loves them. They are empowered by the Holy Spirit and readily exclaim, "Yes, let's go! Let's become more like Jesus! Let's pray more! Let's share more! Let's keep on aiming to reach this world! Let's intercede more for a spiritual awakening! Let's give more!" More, more and more!
Just as Wheaties salute athletic champions on their cereal box, so Jesus will someday salute champion Christians with the words, "Well done thou good and faithful servant." [Matthew 25:21.]
SOMETHING TO DO
Check to see if you have a winning spirit;
#1. What are your life goals?
#2. What are your plans to reach those goals?
#3. What is your most important goal that you want to achieve?
SOUL TIME PRAYER
Lord Jesus Christ, I want to know You more. I want to influence more people to come to know You. I need You more, more than yesterday, I need You more, more than words can say. I want You to empower me with a winning spirit. May I reflect You more and more each day, and may I influence more and more people each day to consider becoming a born-again believer. AMEN!