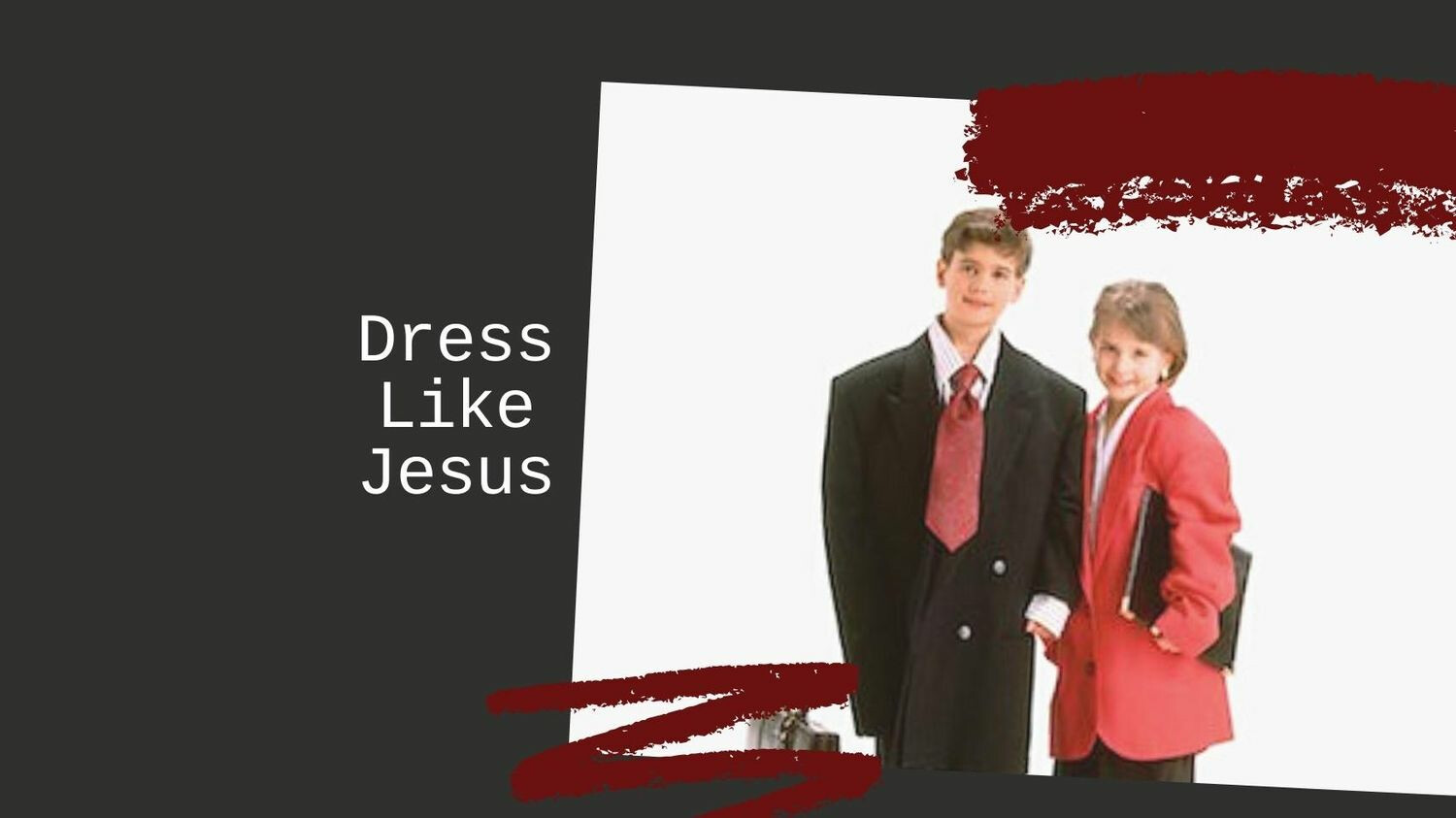 SCRIPTURE
"Therefore, as God's chosen people, holy and dearly loved, clothe yourselves with compassion, kindness, humility, gentleness and patience. (v.13.) Bear with each other, and forgive one another if any of you has a grievance against someone. Forgive as the Lord forgave you. (v.14.) And over all these virtues put on love, which binds them all together in perfect unity." Colossians 3:12-14
SPOTLIGHT
As a child, did you ever play the dress up game where you would put clothes on that would remind you of the person you were wanting to look like. Maybe it was a fireman, policeman, doctor, or nurse? Perhaps you dressed up like your Mom or Dad. Now that you are a believer, the dress up game takes on a different meaning. Allow me to explain.
Do you have a strong desire to personally become more like Jesus Christ your Savior and Lord? Most believers would say "YES," but for many reasons, they find it very challenging. Without suggesting books to read, or a seminar to attend, let me share 8 ways to be Christlike. However, to get started, I am first going to have to talk to you about the way you dress yourself. The truth is that you are going to have to learn to DRESS LIKE JESUS.
Are you considered a well-dressed person? Do people compliment you on your clothes? Are your clothes made from a good quality of material? Do some of them even have a designer label? On the other hand, are you a sloppy, "I don't care what I look like" dresser? You may wonder how these questions are pertinent to the subject title of this devotional. The Apostle Paul made the connection. He told the Colossian Christians that their first concern about having a character like Jesus Christ was to "clothe" themselves with certain internal qualities. When you read the above Scripture passage, Paul does not tell them 8 ways to improve their outward appearance in order to be like Jesus. He does not begin with a dress for success list. Instead, he begins by reminding them of the 3 great motivating truths that have changed their lives;
#1 God has chosen them.
#2 God has made them holy.
#3 God dearly loves them.
As a result, they should wear clothes that fit the high calling God has given them. He identifies 7 pieces of clothing, and then an outer garment which brings the wardrobe all together. Their new wardrobe includes;
#1 Compassion
#2 Kindness
#3. Humility
#4 Gentleness
#5 Patience
#6 Bearing with each other
#7 Forgiving each other just as Christ forgave them.
#8 Finally, they are to clothe themselves with love which brings the whole wardrobe together.
Just think about how mind blowing this is. God chose to give you a brand new life that would be incomparable to the old one. Do you remember the way you use to live? Can you recall your personality? All that changed. The Creator of the heavens and earth not only selected you, but then made you holy. He decided to live within you the moment you repented of your sin and placed your faith in His Son to be your Savior. God did all of this because He "dearly" loves you. His love for you is so great that it is immeasurable. Now you are a new creation. But the change is not yet complete.
God wants you to clothe yourself with Christlike qualities. He invites you to take off and throw away the rags of;
#1 Self-centeredness
#2 Nastiness
#3 Pride
#4 Harshness
#5 Impatience
#6 Lack of understanding
#7 Unforgiveness
#8 Along with any form of hate or resentment
All of that clothing reminds you of who you use to be. When you decide to part with your old wardrobe, God the Holy Spirit, who indwells you, will help you to put on the new Christlike clothing. Calvary love will be the garment that will help all of this clothing to match. You will be a well-dressed believer. The truth is that when you decide to dress like Jesus, you are taking a giant step in becoming Christlike and influencing other people to become believers.
The majority of the time that you witness for Jesus Christ it is not with words, but by character and with deeds. How you live commands the attention of people. You have a non-verbal testimony and a verbal testimony. The former is how you live, and the latter is how you talk. Both are necessary. The former is reflecting the character of Jesus Christ. The latter is communicating how Jesus Christ has changed you. People watch and listen. However, you must realize that people will listen with great interest when they have watched someone who lives by what they say. When people see your new clothing, they may not recognize you. If you used to get angry or swear, they will wonder what happened to you.
Will you dress like your Savior and Lord, Jesus Christ?
SOMETHING TO DO
#1 What steps do you have to take in order to dress like Jesus?
#2 What clothing, [inward personality traits,] does Jesus want you to discard?
#3 Make each characteristic a focus for one day of the week. Put love with each one. [Example: Sunday – compassion and Christlike love, Monday – kindness and Christlike love.]
#4 Who can you ask to help you develop Christlikeness?
SOUL TIME PRAYER
Lord Jesus, I am so grateful to You for changing my life! My desire is to become more like You. I want my life to reflect You rather than me. Daily show me how I can dress more like You, in the way I live and talk. I want my life to influence people to want to personally know You as their Savior and Lord. AMEN!