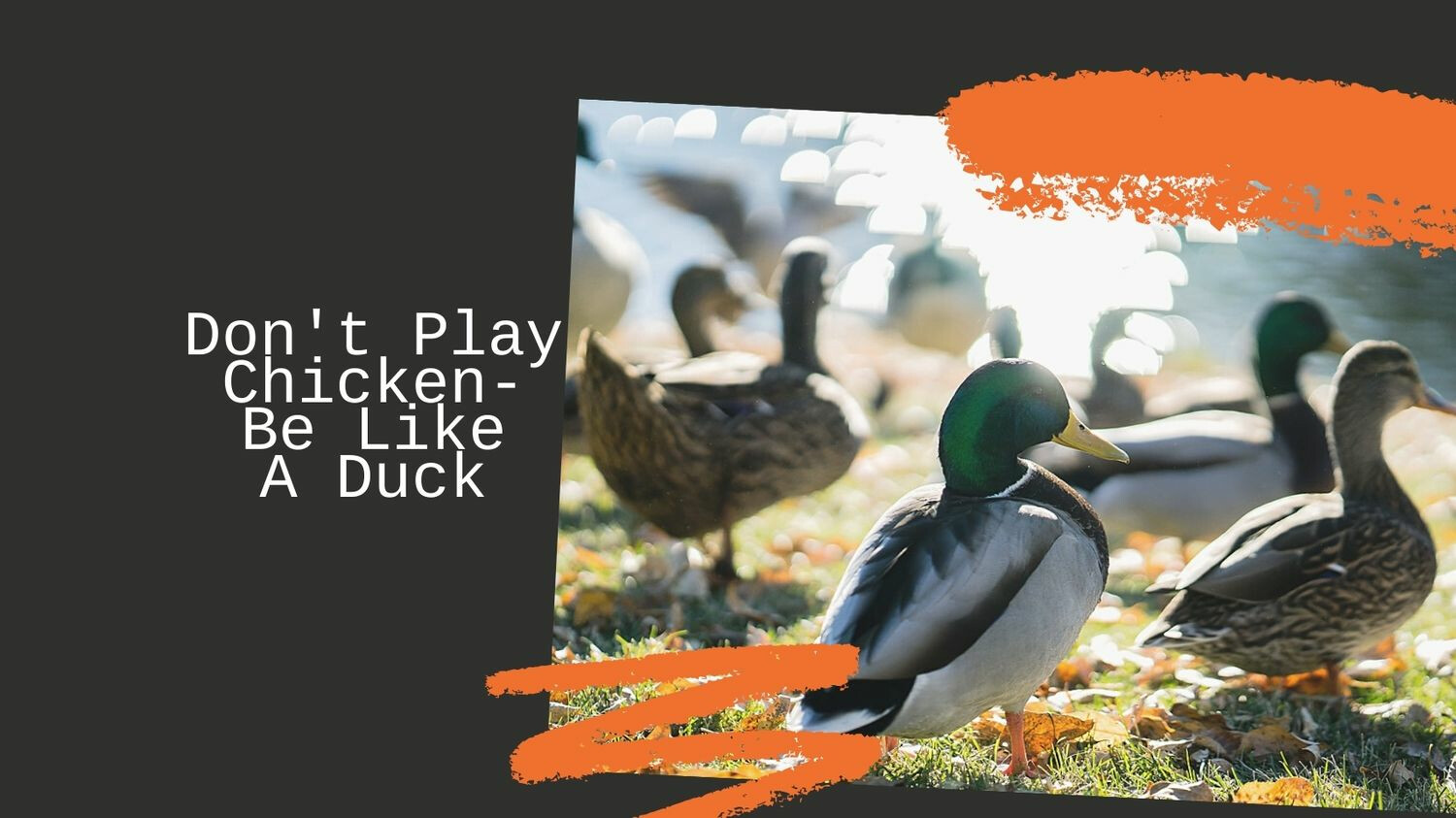 SCRIPTURE
"Carry each other's burdens, and in this way, you will fulfill the law of Christ. If anyone thinks he is something when he is nothing, he deceives himself. Each one should test his own actions. Then he can take pride in himself, without comparing himself to somebody else, for each one should carry his own load… Let us not become weary in doing good, for at the proper time we will reap a harvest if we do not give up. Therefore, as we have an opportunity, let us do good to all people, especially to those who belong to the family of believers." Galatians 6:2-5,9,10
SPOTLIGHT
I am a pastor and I want to tell you something that may make you smile. I would rather have a church full of ducks, than a church full of chickens. Chickens run together in a flock, but by nature, each one of them is very selfish. However, ducks are different. Let me explain.
A man related how a raccoon broke into his coop and stole eight hens. When the raccoon attacked, every chicken was on her own. No chicken helped to defend her fellow chickens. In other words, the chickens played chicken. The raccoon had the choice of any hens, but the selfish attitude of the chickens, including the rooster, was like, "get me out of here."
The ducks responded in a totally different way. When the raccoon broke into their coop, the ducks stuck together. They hissed, and flopped, and fought as one. Because they protected each other, the ducks were very successful. They warded off their predator. Far more chickens were lost than ducks.
Did you know that the church you attend is to be made up of duck-like Christians, rather than chicken-like Christians? Paul wrote to the Galatian church to instruct them as to how they should behave now that Jesus Christ had become their Savior and Lord. In the Scripture text above, it teaches believers to, "DON'T PLAY CHICKEN – BE LIKE A DUCK." Christians are to be burden-bearers and not think highly of themselves. They are to assess how they are living and refrain from comparing themselves to others. Finally, they are not to get tired from doing good but instead do good to everyone, and especially other believers.
Believers need to stop playing chicken. Chicken Christians gather together at church for social reasons but flee when trouble comes. For them, the church is more like a social club rather than a caring, loving family. Chicken Christians like to attend, but do not like to serve. They are looking out just for themselves because they still make themselves #1, rather than making Jesus their Lord.
If there is ever a place where someone should be able to find true friendship and support, it should be in Jesus Christ's church. Jesus Christ was the greatest friend ever to live on planet earth. He knew the importance of strong, loving, caring relationships. Jesus taught that companionship is key to healthy living. Knowing there is someone who is looking out for you, gives you the confidence and strength to live. Sticking together is far better than individually living for yourself. Read Ecclesiastes 4:9,10. When hard times come, and life's challenges grow, you are far better off with a church full of duck-like Christians. Paul told the Ephesian Christians, "As a prisoner for the Lord, then, I urge you to live a life worthy of the calling you have received. Be completely humble and gentle; be patient, bearing with one another in love." [Ephesians 4:1-3.] In other words, be committed to each other just like ducks.
SOMETHING TO DO
#1. What can you do to help a Christian friend who is carrying a heavy burden?
#2. What can you do to stop thinking highly of yourself?
#3. When you take communion, be sure to ask the Holy Spirit to reveal any ways you may be putting yourself first rather than Jesus and others.
SOUL TIME PRAYER
Lord Jesus Christ, I would ask that You reveal to me when I am making myself #1, rather than putting You first. Daily show me how I might be more loving, and caring, and protective of people who You bring into my life. AMEN!