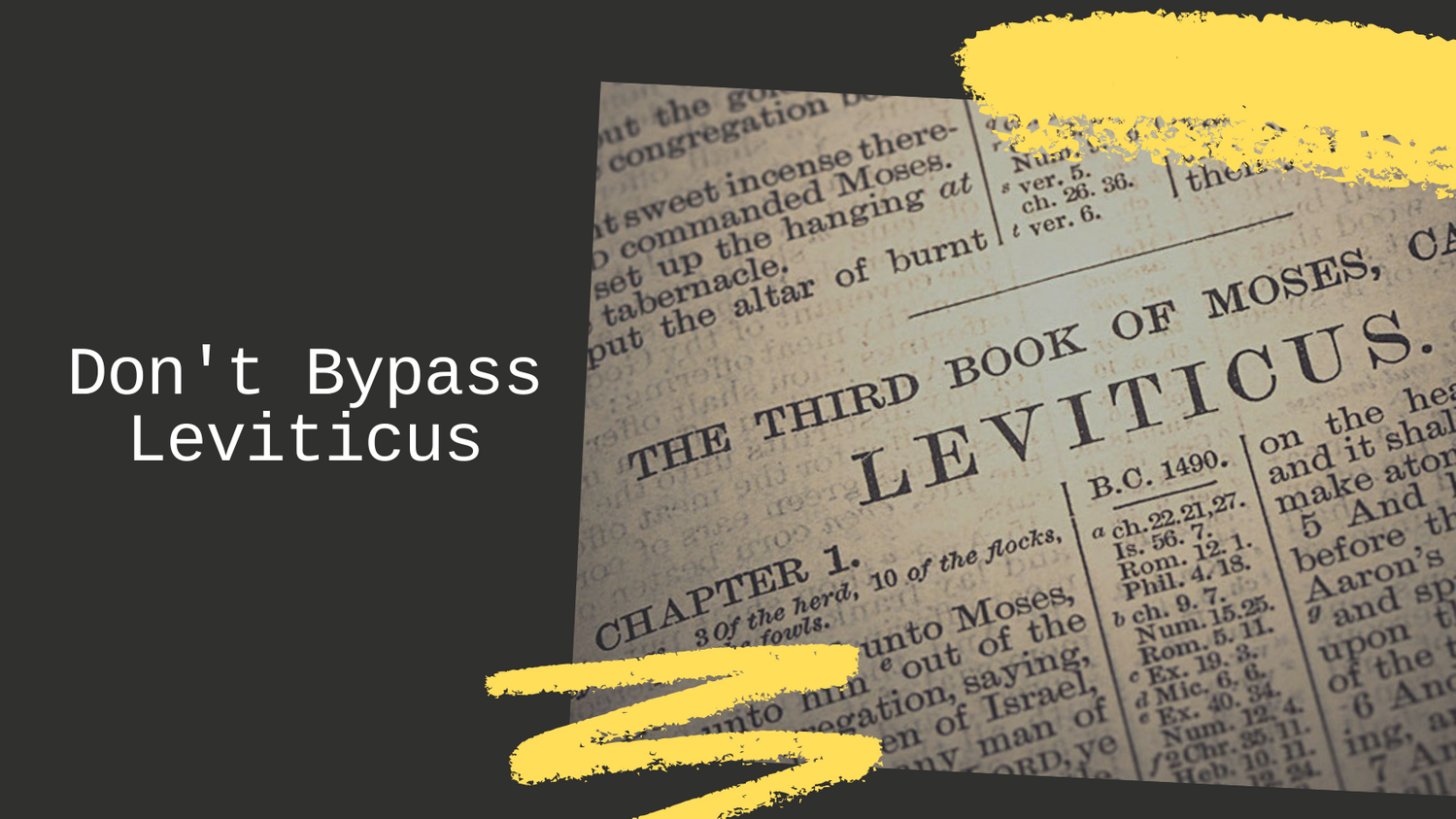 SCRIPTURE
"I am the Lord your God, consecrate yourselves and be holy, because I am holy. Do not make yourselves unclean by any creature that moves about on the ground. I am the Lord who brought you out of Egypt to be your God; therefore, be holy because I am holy." Leviticus 11:44 and 45
"For the life of a creature is in the blood, and I have given it to you to make atonement for yourselves on the altar; It is the blood that makes atonement for one's life." Leviticus 17:11
"Do not seek revenge, or bear a grudge against one of your people, but love your neighbor as yourself. I am the Lord." Leviticus 19:18
SPOTLIGHT
People often bypass reading the third book of the Pentateuch called, Leviticus, because it is one chapter after another listing rules, and regulations. They feel it is a laborious read, because it outlines in great detail how the Levitical priests were expected to do their ministry/work. DON'T BYPASS LEVITICUS WITHOUT STOPPING AT… some verses that are spiritual gems. Three of them are identified above. They provide significant information, and instruction that greatly help you to understand the New Testament. Let me explain.
Throughout Leviticus, you learn that holiness is the primary characteristic of God. The key word of the book is, "holy." Leviticus 19:1,2 states, The Lord said to Moses, "Speak to the entire assembly of Israel and say to them: 'Be holy because I, the Lord your God, am holy.'" Leviticus 20:26 states, "You are to be holy to Me because I, the Lord, am holy, and I have set you apart from the nations to be My own." Please grab hold of this gem. Man was made in God's image. [Genesis 1: 26,27]. Holiness is the image of God. God wants you to be holy like Him. When you are holy, you are reflecting God's image/character. When you desire to be holy as God is, you will experience:
#1. Cleansing from your sin.
#2. Closeness to God.
#3. Clarity in thinking, deciding, and choosing as God would.
Another key word in Leviticus is, "atonement," which reveals another beautiful gem. This word means, "to cover over." Read again the second verse listed above. Your sin needs atonement in order for you to be at one with God. Atonement is the primary necessity of everyone. You need to experience forgiveness for your sin which separates you from God. Hebrews 9:22 states, "In fact, the law requires that nearly everything be cleansed with blood, and without the shedding of blood, there is no forgiveness." Blood has to be shed in order for your sin to be forgiven. In the Old Testament, animal blood sacrifices were made, but in the New Testament, Jesus Christ became the once for all, eternal blood sacrifice. [See Hebrews 9:14 & 10:10]. You receive atonement and are made holy through the blood sacrifice Jesus Christ offered on Calvary. Never again do you have to offer a sacrifice. Don't forget that atonement means to be "at one" with God. God wants you to be in agreement with your need for forgiveness of your sin. To prove that, He gave His Son as a blood sacrifice, [atonement], for your sin so that you could be "at one" with Him.
The third key thought not to bypass in Leviticus, is that love for all people is the second most important way to express love for God. Read again the third verse. Take hold of this gem. God's people are to love all people the way they love themselves. There is no room for prejudice, or inequality. God's holiness leads to God's atonement, which leads to God's love. This is called, the Greatest Commandment, in the New Testament. Jesus took Leviticus 19:18, and coupled it with Deuteronomy 6:4,5, in order to summarize all Godly laws and regulations. Check out Matthew 22:34-40, Mark 12:29-31, and Luke 10:27. Later Jesus gave a new command to love all people. [See John 13:34,35]. Paul clarified how to love all people in Romans 8:8-10.
All 3 gems are summed up by Paul the Apostle, when he writes in Ephesians 5:1,2, "Be imitators of God, therefore as dearly loved children, and live a life of love, just as Christ loved us, and gave Himself up for us as a fragrant offering, and sacrifice to God."
SOMETHING TO DO
For further gem study try doing the following;
Check out the following verses on Holiness:
Deuteronomy 14:2
Joshua 24:19-24
Psalm 99:3
Matthew 5:48
Romans 12:1,2
1 Peter 1:13-16
Check out the following verses on Atonement:
Leviticus 16:32,33
Colossians 1:14
Hebrews 9:13-15
1 John 1:7
Revelation 7:14
Check out the following verses on the Greatest Commandment:
Exodus 20:16,17
Leviticus 19:9-18
Matthew 5:43,44
Galatians 5:13-15; 6:10
1 Thessalonians 3:12
James 2:8
SOUL TIME PRAYER
Heavenly Father, You are Holy, and I want to be more like You. Draw me closer to You, and teach me Your ways. Thank You that You gave Your Son to die for my sin, so that I can be at one with You. Empower me to love like You, so that I can live a life that will cause people to want to know You. AMEN!