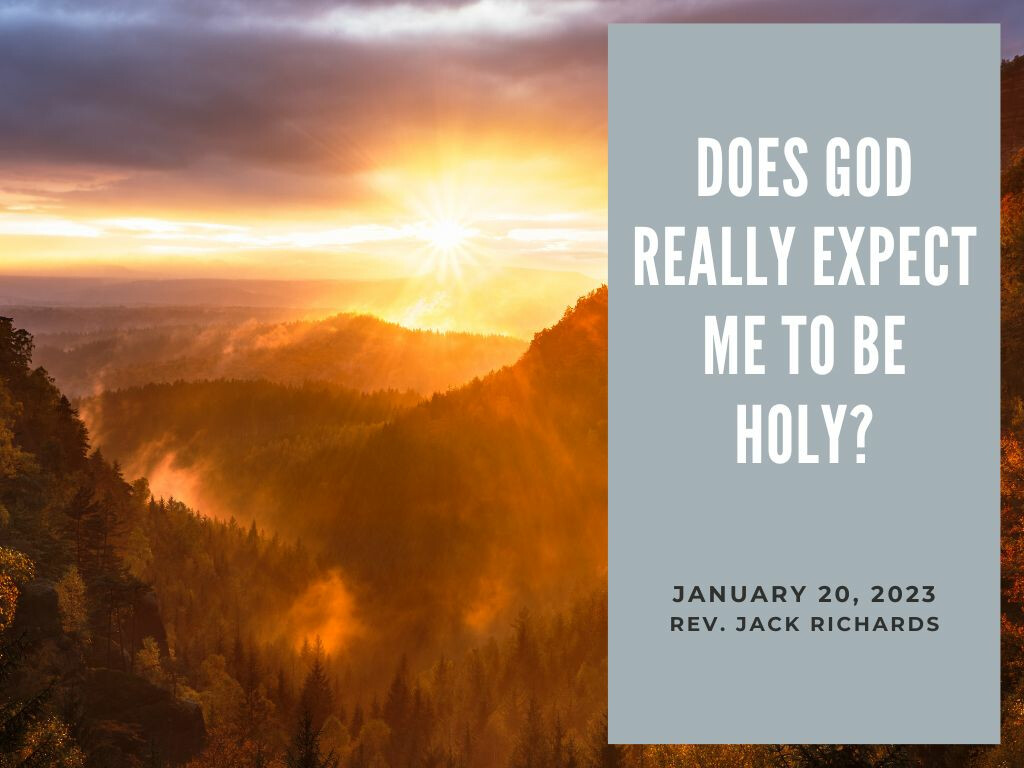 SEARCHLIGHT
Why are you reluctant to become holy as God is?
SCRIPTURE
The Lord said to Moses, "Speak to the entire assembly of Israel and say to them: 'Be holy because I, the Lord your God, am holy. Leviticus 19:2 NIV
Consecrate yourselves and be holy, because I am the Lord your God. Keep my decrees and follow them. I am the Lord, who makes you holy. Leviticus 20: 7,8 NIV
SPOTLIGHT
Congratulations! I am surprised you have read this devotional up to this point. Why? Because talking about being holy is not exactly lunch conversation or something that crosses your mind every other day. If you are honest, you will have to admit that when it comes to being holy:
We misunderstand it. We probably tend to think of it as being something it is not.

We are afraid of it. It is easy to be apprehensive. We are not sure where we will end up if we participate. Some of us think we may have to move to a monastery.

We don't want it because it will restrict us. To be holy does not sound like it is fun.

We think it is kind of spooky. We think only God should be given this description.

We have seen people who claim to be holy. They certainly are not a good example.

We just don't want to do it. It will involve time we do not want to give. Holiness is being perfect, and we know we are far more imperfect. So why do it?
In the above Scripture focus we can conclude the following:
God is

holy

. The Creator of the universe declares holiness describes who He is.

God wants you to

be holy

. Holiness is not just to describe God. God commands it for you.

God will

make you holy

. You cannot make yourself holy. He commits Himself to the task and instructs you to follow His principles and laws which lead to becoming holy.

God only asks you to

consecrate

yourself

to wanting to be holy like Him. He wants you to long to be like Him.
Throughout Leviticus, you learn that holiness is the primary characteristic of God. The keyword of the book is "holy." Please grab hold of this gem. Man was made in God's image. [Genesis 1: 26,27] Holiness is the image of God. God wants you to be holy like Him. When you are holy, you are reflecting God's image/character. When you desire to be holy as God is, you will experience #1 cleansing from your sin, #2 closeness to God, and #3 clarity in thinking, deciding, and choosing as God would.
Too many people misunderstand God's command to be holy. He is not asking for something that is impossible. God cannot ask something to be done that cannot be done. Becoming holy is not out of reach. God is the Creator of the universe. He can do anything and make anything happen.
Neither is God asking people to do something that is impractical. Becoming holy like God is sensible and reasonable. Would not the world be far better off if it was populated by people who had God's nature? Think about it for a moment. Ask yourself these questions. #1 Is God good? #2 Is God love? #3 Is God faithful? #4 Is God consistent? The answer to each question is a resounding "Yes!" God says He wants you to be holy like Him. Holiness is being like God. The world would be a better place if you and everyone you know was holy.
The question is this: "Do you want to be holy or not? Do you want to have Godly character or not?" Originally, man was made in the image of God. [Genesis 1:26,27] Adam and Eve were God-like. They chose to give that privilege up. Then they suffered the consequences which you and I suffer today. Do you want to have your Godly character back? Consecrate yourself to God. Dedicate yourself to living God's way rather than yours. Separate yourself from anything that is contrary to Jesus Christ. Live to honor, worship and obey God.
Holiness is a way of living. It is a lifestyle. Everyone chooses consciously or subconsciously a way to live life. What is yours? Holiness is choosing to live a life that will please God. Holiness is devoting yourself to live by God's principles and laws as taught in the Bible rather than choosing your own. When you do, the world will be a better place for you, me and everyone.
SOMETHING TO DO
Take some alone time to pray and ponder about being holy. Have a heart-to-heart conversation with your loving Heavenly Father.
SOUL TIME PRAYER
Heavenly Father, as the songwriter put it, holiness is what I long for and is what I need. I know it is what you want from me. I realize You are not requiring me to be perfect. That is why you gave your Son to die to become my Savior. So take my heart and mold it, take my mind, transform it, take my will and conform it to Your heart, mind, and will. And I pray this in Jesus Christ's name. AMEN!
---