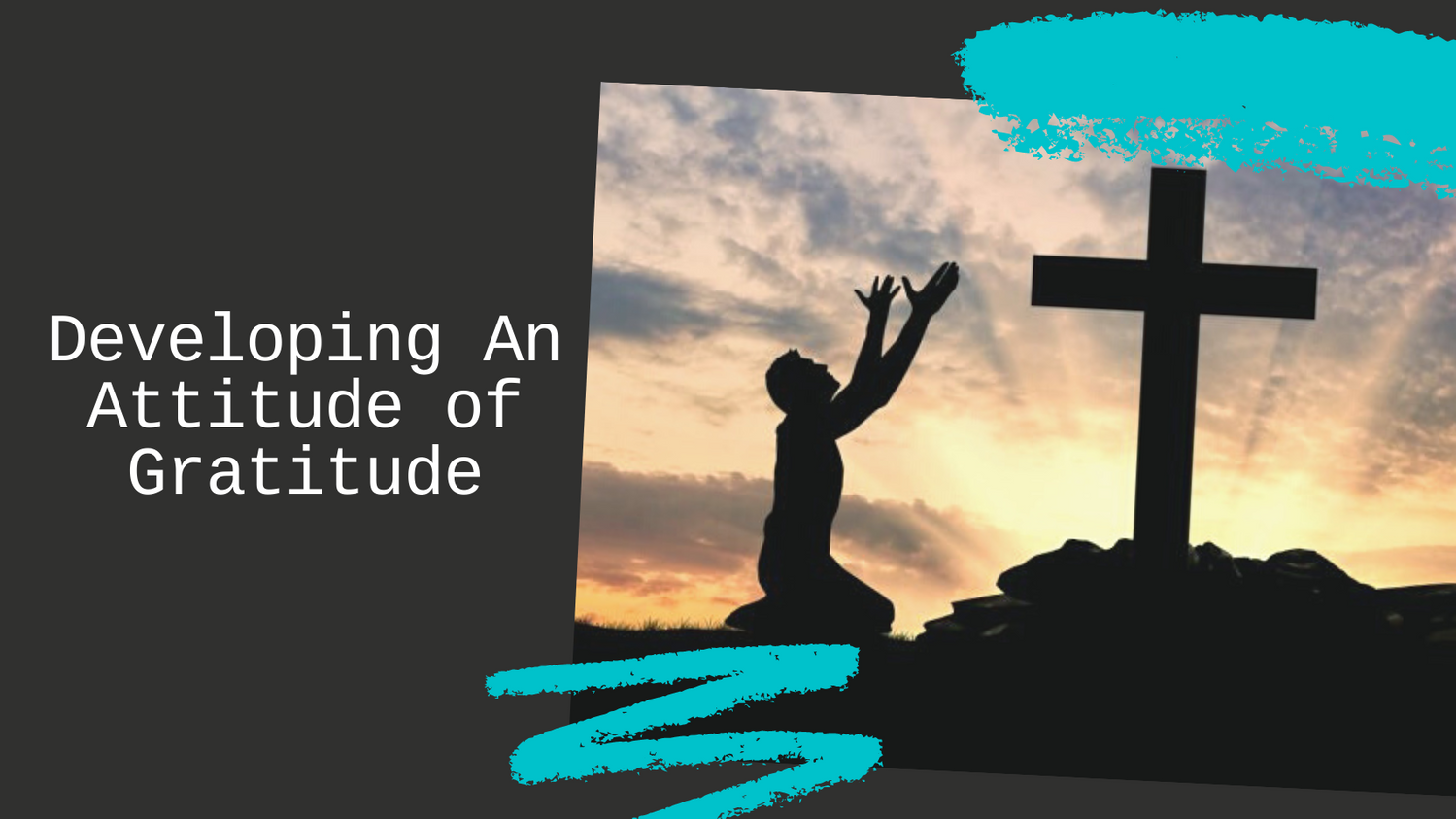 SCRIPTURE
"Yours, O Lord, is the greatness and the power and the glory and the majesty and the splendor, for everything in heaven and earth is yours. Yours, O Lord, is the kingdom; You are exalted as head over all. Wealth and honor come from you; You are the ruler of all things. In your hands are strength and power to exalt and give strength to all… but who am I, and who are my people, that we should be able to give as generously as this? Everything comes from you, and we have given you only what comes from your hand."1 Chronicles 29:11,12,14
SPOTLIGHT
Today is a great day for you to begin DEVELOPING AN ATTITUDE OF GRATITUDE. The grateful person has an attitude deeply ingrained in his/her soul. He says with gusto:
"Thank God for dirty dishes, they have a tale to tell.
While others may go hungry, we've eaten very well.
With home, health and happiness, we dare not want to fuss.
And even under dark clouds, in God we put our trust."
1 Chronicles 29 is a chapter describing the attitude every believer should have when giving to God's ministries on earth. In the presence of a very large congregation of people, David gave praise to the Lord, and in so doing taught the people to always have a very grateful heart. He clearly pointed out that:
#1. Everything belongs to God. [Verse 11]. God owns all of heaven and earth.
#2. Wealth and honor come from God. [Verse 12]. God rules all of heaven and earth.
#3. Everything we have, or give, comes from God. [Verse 14]. God receives back only what He has already given to us.
By the stack of evidence as seen in those dirty dishes, God has been very good to you and me. The attitude of gratitude begins on the inside. Its fountainhead is the heart. Ever before it rises to expression, it is already made a marked impression on a person's mind and emotions. Saying, "Thank you!" is not just a matter of politeness. Saying grace at each meal is not just thoughtless repetition. Those words ring with sincerity when they are spoken.
The attitude of gratitude describes a person who is continually aware of just how good God is to him. Gratitude is constantly expressed. People observe, "I've noticed how thankful he/she is." He has learned even to give thanks in all situations. Like Paul the apostle, he lives out the truth, "…always giving thanks to God the Father for everything, in the name of our Lord Jesus Christ." [Ephesians 5:20]. Never is there an ulterior motive in his gratitude. Neither is he grateful, in order to get. Gratitude is never forgotten, or withheld.
The attitude of gratitude needs to be demonstrated. Whenever possible, a grateful person desires to express gratitude. Actions speak louder than words. Gratitude is never just a mental thought if it can be verbalized. Saying, "I love you," is common to a grateful person's lips. Showing, "I love you," is common to a grateful person's living.
So, you may ask, "Where do I begin in order to develop an attitude of gratitude?" The answer is easy, but it will cost you something. Begin by kneeling at the foot of the cross and inviting Jesus Christ to save you from your sinfulness. After you have admitted that you are a sinner, and that you believe that Jesus Christ is the living God, then come back often to kneel again and again. This is one reason for participating in a communion worship service. Jesus said, "Do this in remembrance of Me."
What will the cost be? It won't be your time, or money. It will be your, "self," your selfishness, pride, envy, jealousy, self-centeredness, etc. As you continually kneel at the cross, you will find yourself exchanging all of the above for an attitude of gratitude.
SOMETHING TO DO
#1. Name 5 outstanding, unexpected blessings you know that God has given you.
#2. Name 5 things you could easily look over, or forget, but now realize that God gave those to you also.
#3. Name 5 actions you can take in order to express gratitude to God for both the outstanding, and "ordinary" everyday blessings God has given to you.
SOUL TIME PRAYER
Heavenly Father, from this day forward I will praise You every day because I am convinced that everything belongs to You, God. All my wealth and honor come from You, God. Everything that I have received, or give, is all from You giving me the mental and physical capabilities to do that. AMEN!