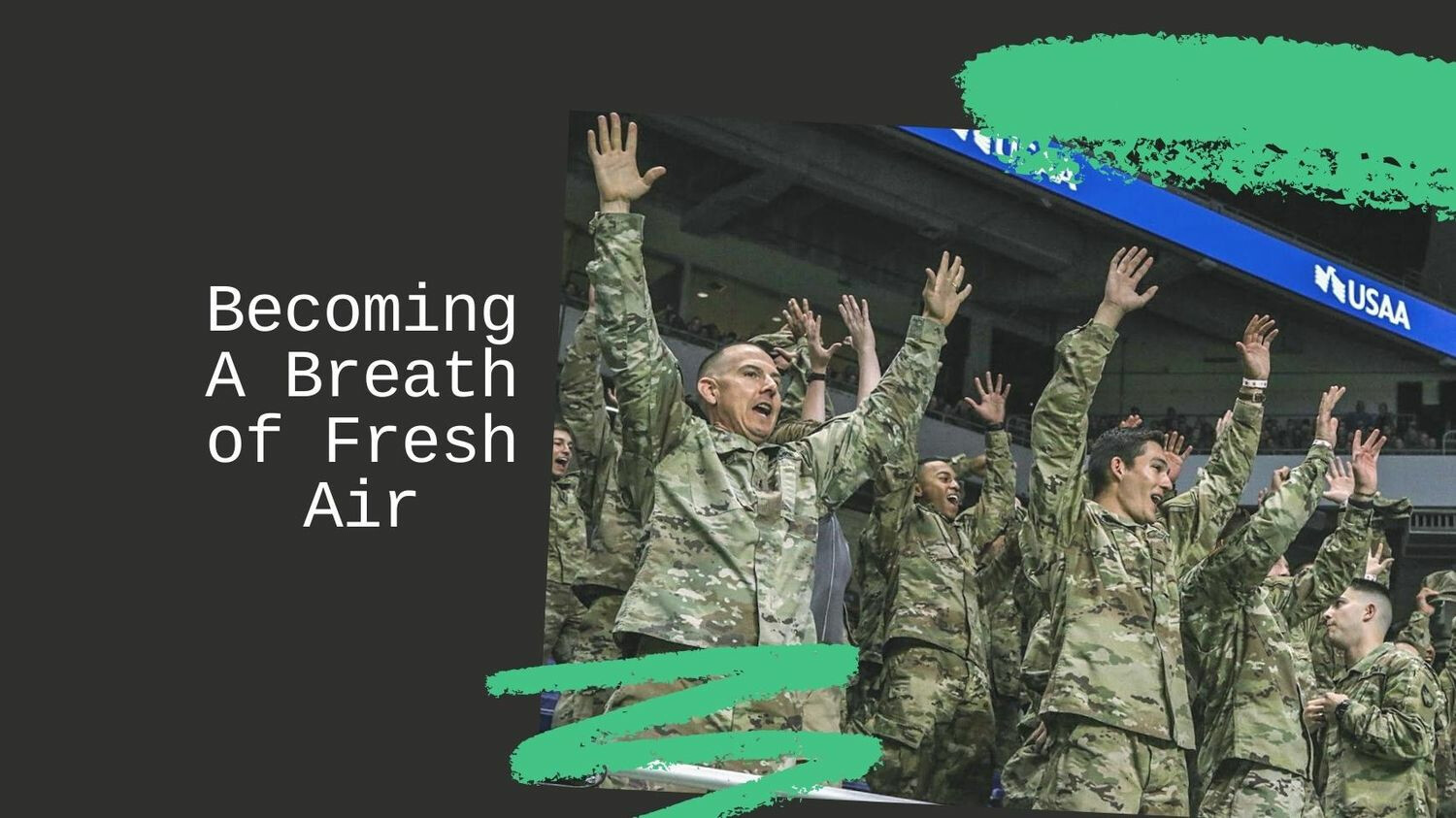 SCRIPTURE
"Your love has given me great joy and encouragement, because you, brother, have refreshed the hearts of the saints." Philemon 7
SPOTLIGHT
What happens when you walk into a room? Are you a breath of fresh air? President George Bush secretly flew to Bagdad, Iraq for Thanksgiving, on November 28, 2003, in order to convey to our troops a BIG THANK YOU, for all that they were doing to secure peace in the Middle East. I will never forget watching him walk into the room filled with military personnel. Suddenly there was an eruption of cheers and applause. He certainly did boost the soldiers' morale. President Bush had become a breath of fresh air and refreshed the hearts of many military people.
Are you a refreshing person? You do not have to be the President, or have an outgoing vibrant personality. Someone who is refreshing brings revitalization to people. People welcome his/her presence, knowing that it will have been beneficial to spend time together. They know they will feel renewed and reinvigorated. The refreshing person brings a sense of life, happiness, or peace into the room. He/she is like a breath of fresh air.
The Apostle Paul commended Philemon for being a refreshing person. Read the Scripture text above. The question remains; Why did Philemon receive this high commendation?
What is the makeup of a refreshing person? Previous to Paul's compliment, we get a hint;
A refreshing person can be trusted. Paul wrote, "To Philemon, our dear friend…" [Philemon 1a.] Paul considered this wealthy man to be a man of integrity.
A refreshing person is a committed believer. Paul wrote, "To Philemon, our dear friend and fellow worker," [Philemon 1b.] Paul considered Philemon to be his partner in ministry. Obviously, Philemon, like Paul, "worked hard," at sharing the Gospel.
A refreshing person is someone you can thank God for. Paul wrote, " I always thank my God as I remember you in my prayers…" [Philemon 4.] Paul was so blessed by this man, that he thanked God for the privilege of having met him.
A refreshing person has a strong faith in Jesus Christ. Paul wrote, "…because I hear about your faith in the Lord Jesus…" [Philemon 5a.] Paul knew that this man had a life-changing relationship with the one true living God.
A refreshing person loves other Christians. Paul wrote, "…and your love for all the saints." [Philemon 5b.] Philemon had opened up his home to be the worship center of the community. He was a very hospitable man.
A refreshing person's lifestyle creates joy and encouragement in people. Paul wrote, "Your love has given me great joy and encouragement…" [Philemon 7a.] The way Philemon walked and talked, led people to be refreshed, renewed, and revitalized.
There you have it. The makeup of a refreshing person has nothing to do with money, power, appearance, or personality. Instead, it stems back to having a vital, ongoing, growing personal relationship with Jesus Christ, the living God. The closer you are to Jesus, the more refreshing a person you will be.
SOMETHING TO DO
Take the "BECOME A BREATH OF FRESH AIR" test. Check out your makeup.
#1. THINKING - Do you have a positive perspective toward life? When life offers you lemons, are you going to make lemonade?
#2. TALKING - Do you speak encouraging words to people?
#3. BEHAVIOR – Are you helpful? Do you look for opportunities to give and serve?
#4. FACE - Does your countenance reflect sincerity? Do your eyes smile along with your mouth?
#5. PERSONALITY - Does your presence uplift people? Do people miss you?
#6. RELATIONSHIP –Do you have a personal, growing life-changing relationship with Jesus Christ, the one true living God?
SOUL TIME PRAYER
Heavenly Father, I want to be a breath of fresh air. I desire to be a refreshing person, but I realize I need You to change me. Right now, through this prayer, I…..
Admit I am a sinner. [See 1 John 1:8.]
Believe Jesus Christ, Your Son, died on the cross for my sins. [See John 1:12.]
Confess to You, my desire to be forgiven of my sin. [See 1 John 1:9.]
Decide to live my life to please Jesus. [See Luke 9:23.
AMEN!
---