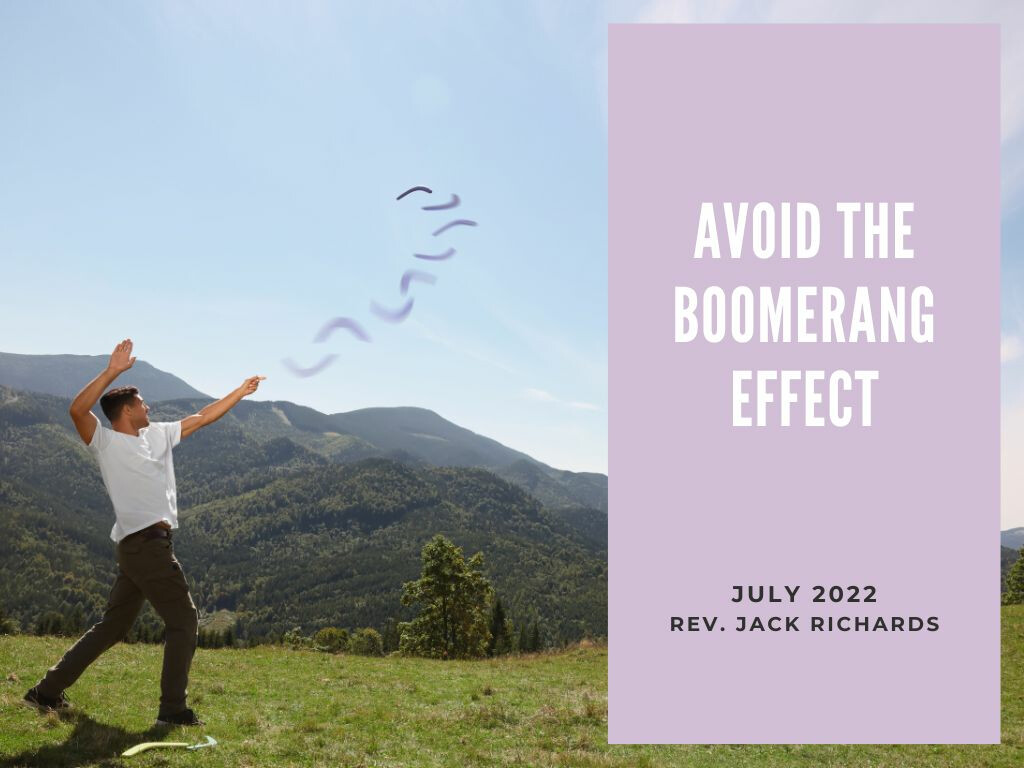 SEARCHLIGHT
Do you do things to people that you would not want done to you?
SCRIPTURE
AS YOU HAVE DONE, IT WILL BE DONE TO YOU; YOUR DEEDS WILL RETURN UPON YOUR OWN HEAD. Obadiah 15b NIV
AS YOU HAVE DONE, IT WILL BE DONE TO YOU. WHAT YOU DID WILL BOOMERANG BACK AND HIT YOUR OWN HEAD. Obadiah 15b MESSAGE
SPOTLIGHT
On March 16, 1968, a young helicopter pilot named High Thompson was flying on patrol over the countryside of Vietnam. What he saw was the military doing things to people that they would not want to be done to themselves let alone their loved ones. He and his crew witnessed a nightmare taking place in the village of My Lai. History records that "United States Army troops in Charlie Company, under the constant pressure of danger and the madness of war, had lost control of their discipline, reason, and humanity. They had begun slaughtering unarmed civilians in the village, most of them women, children, and elderly men. 504 people had already been killed." Thompson determined to try stop the carnage by setting his helicopter down between the troops and the remaining villagers. Risking his life, he got out of the helicopter and confronted the officer in charge. Following that, he airlifted the few remaining villagers from the death zone and radioed a report of the massacre which halted the mission and saved many more lives. When he received an honorary degree for bravery and valor, he was asked how he found the moral courage and strength to do what he did that day. His answer silenced his audience when he said, "I'd like to thank my mother and father for trying to instill in me the difference between right and wrong. We were country people. I was born and raised in Stone Mountain, Georgia, and we had very little. But one thing we did have was the Golden Rule. My parents taught me early, 'Do unto others what you would have them do to you.' I was raised as a Christian. That's why I did what I did that day. Each of you is going to have to make many decisions in your life. Please make the right decisions because we all depend on you." [Sermon Central, Ronald Harbaugh sermon, 2/20/2010]
How do you want to be treated? Obadiah prophesied to the Edomites that they would experience what I call, "The Boomerang Effect". This is when someone does something bad to someone which later has an adverse effect. It backfires and the person pays a severe consequence for his actions. For years the Edomites had done terrible things to the Israelites. Obadiah prophesied that what they had done would rebound in a very detrimental way. They would not be able to AVOID THE BOOMERANG EFFECT because God was going to judge them for their evil. What goes around will come around. People will reap what they sow. Sow trouble but get ready to later reap trouble. Behave in a bad way and soon you will be receiving bad behavior. A person's actions always determine his/her consequences.
When Jesus Christ preached His Sermon on the Mount, He taught the Golden Rule by saying "Do unto others as you would have them do unto you." [Matthew 7:12] The Message puts Christ's words this way, "Here is a simple, rule-of-thumb guide for behavior: Ask yourself what you want people to do for you, then grab the initiative and do it for them." Forgive as you wish to be forgiven. Stop to help someone. Be kind. Go out of your way to show Christ's love. Responsibly drive a car so you will not injure someone. However, it is quite another thing to stop to give someone a ride or help to fix a flat tire. It is one thing to be a responsible person, but it is better to also be a giving person. In other words, Jesus said just do not do what you do not want to be done to yourself but do to others what you would expect them to do to you.
Paul told the Galatian Christians, "Don't be misled: No one makes a fool of God. What a person plants, he will harvest. The person who plants selfishness, ignoring the needs of others – ignoring God! – harvests a crop of weeds. All he'll have to show for his life is weeds! But the one who plants in response to God, letting God's Spirit do the growth work in him, harvests a crop of real life, eternal life. So, let's not allow ourselves to get fatigued doing good. At the right time, we will harvest a crop if we don't give up or quit. Right now, therefore, every time we get the chance, let us work for the benefit of all, starting with the people closest to us in the community of faith." [Galatians 6:7-10 Message]
Contrary to modern thought, the Golden Rule does not mean "He who has the most gold, makes the rules." What Jesus taught was to not just be good but be Godly. Show God's love in tangible ways to everyone. Express patience, generosity, truthfulness, kindness, and self-control toward people. AVOID THE BOOMERANG EFFECT. What goes around will come around. If you treat someone badly, eventually you will be treated badly by someone else. You do not want to live a life that will come back to bite you. Instead, choose this day and every day to think of others the way you would want them to think of you. And behave like it!
SOMETHING TO DO
What can you do for people today that you would desire them to do for you if they had the opportunity?
SOUL TIME PRAYER
Heavenly Father, I do not just desire to just be a responsible person but also a giving person. Help me to not just be good but to be Godly. Fill me with Your love, thoughts, and attitudes. AMEN.