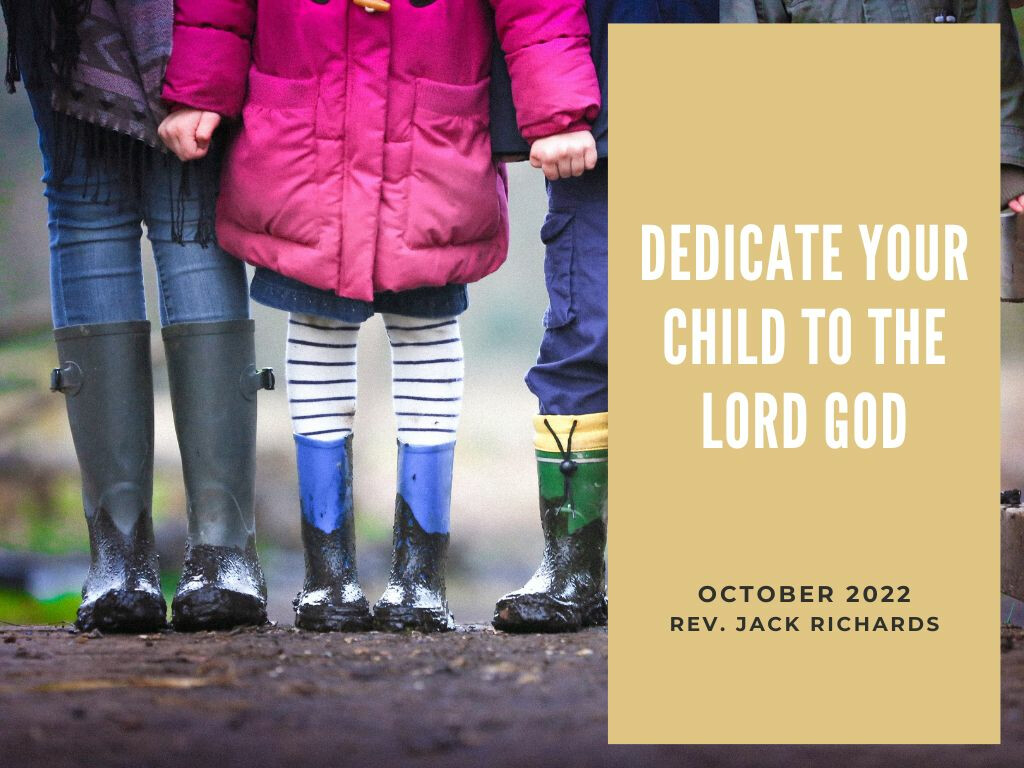 SEARCHLIGHT
The United States Army had a recruiting slogan from 1980 to 2001 which said "Be All That You Can Be". Will you make it possible for your child to be all that God has created and intended him or her to be?
SCRIPTURE
When the time came for the purification rites by the law of Moses, Joseph and Mary took him to Jerusalem to present him to the Lord. Luke 2:22 NIV
SPOTLIGHT
DEDICATE YOUR CHILD TO THE LORD GOD. There are good Biblical reasons for parents to do this. Mary and Joseph created a special time. They knew that God had blessed them with this very unusual Son who would become the Savior of the world. Read Luke 2:22,23. They took Jesus to Jerusalem to present Him to the Lord God.
Hannah and Elkanah dedicated their son. Samuel was greatly used by God. [1Samuel 1:24-28] Hannah knew that God had blessed her with a son so she decided to give him back to God so that His blessing would rest upon his life. Samuel became one of the greatest Old Testament prophets.
Jesus Christ blessed children. See Matthew 19:13-15; Mark 10:13-16; Luke 18:15-17. He was very intentional in wanting to pray over young children to the point that He rebuked His disciples for trying to keep them away from Him.
Parents need to dedicate their children to God. Your child's greatest destiny can be discovered by first of all consecrating your child to God's plan for his or her life. In later years you need to tell your child that you have asked God to make Himself real to him or her and to also provide guidance along with divine wisdom. In addition, you should continue to remind the child throughout life that he/she has been consecrated to the Lord God.
God created your child and has a wonderful plan for him or her to fulfill. Jeremiah was convinced by God that he had an important part to play in life. "The word of the Lord came to me saying, 'Before I formed you in the womb I knew you, before you were born I set you apart; I appointed you as a prophet to the nations.'" Later in Jeremiah 29:11, God says "For I know the plans I have for you, plans to prosper you and not to harm you, plans to give you hope and a future." Read Psalm 139:13-18 to be convinced that God has specific purposes for your child to fulfill.
Consecrate each child to God. It is the parents' responsibility to raise their child in a Christ-centered home in order to teach the child to glorify God. Of course, a child has a will and someday day must choose to personally follow Jesus Christ. Child dedication does not make a child a born-again Christian. Everyone must personally establish his or her faith in Jesus Christ. Until that decision is made, the parents are the number one teacher about God and Godliness. The church can assist but must never be the primary trainer. Child dedication reminds the parents of their significant role to play in nurturing a child.
Child dedication is composed of 3 steps.
Parents are to dedicate themselves to the Lord before dedicating their child. This is an individual commitment of each parent praying, "Father I adore You, lay my life before You, how I love You." It is not easy to raise a child to know God in this very immoral society. So many voices seek your child's commitment. Parents need Godly wisdom every day to train a child in God's ways. By first of all dedicating themselves to God, parents are showing their love for God and need for His divine help to raise their child.

Parents are to dedicate their child to Jesus in a public setting where a pastor will pray over your child as Jesus did when he blessed the children. This is the parental commitment where the parents pray "Jesus, we adore You, lay our child before You, how we love You." Here they are acknowledging that God's purpose and plan for their child are far greater than their personal ambitions and goals for their child.

Parents are to invite those who are attending the service to dedicate themselves to the Lord because they will be models and examples of Jesus Christ before the child. This is the church family commitment when the people present pray, "Spirit, we adore You lay our lives before You, how we love You." Their responsibility is to live a life that will cause your child to want to become a Christian.
Although child dedication is not commanded in the Bible, it certainly is something that dedicated parents will want to do. Any act of dedication marks a milestone in the lives of all those involved. Child dedication is one of those milestone opportunities.
SOMETHING TO DO
Prayerfully consider publicly dedicating your child to God. Read the Bible passages mentioned above. Consult your pastor to gain clarity. Afterward, continue to privately dedicate your child to God during your personal times in prayer.
SOUL TIME PRAYER
Heavenly Father, as a parent, I want to do everything possible that will lead to my child knowing You and discovering your will. Today, I dedicate my life to Godly parenting. Show me how to raise my child to love and honor You. AMEN!
---