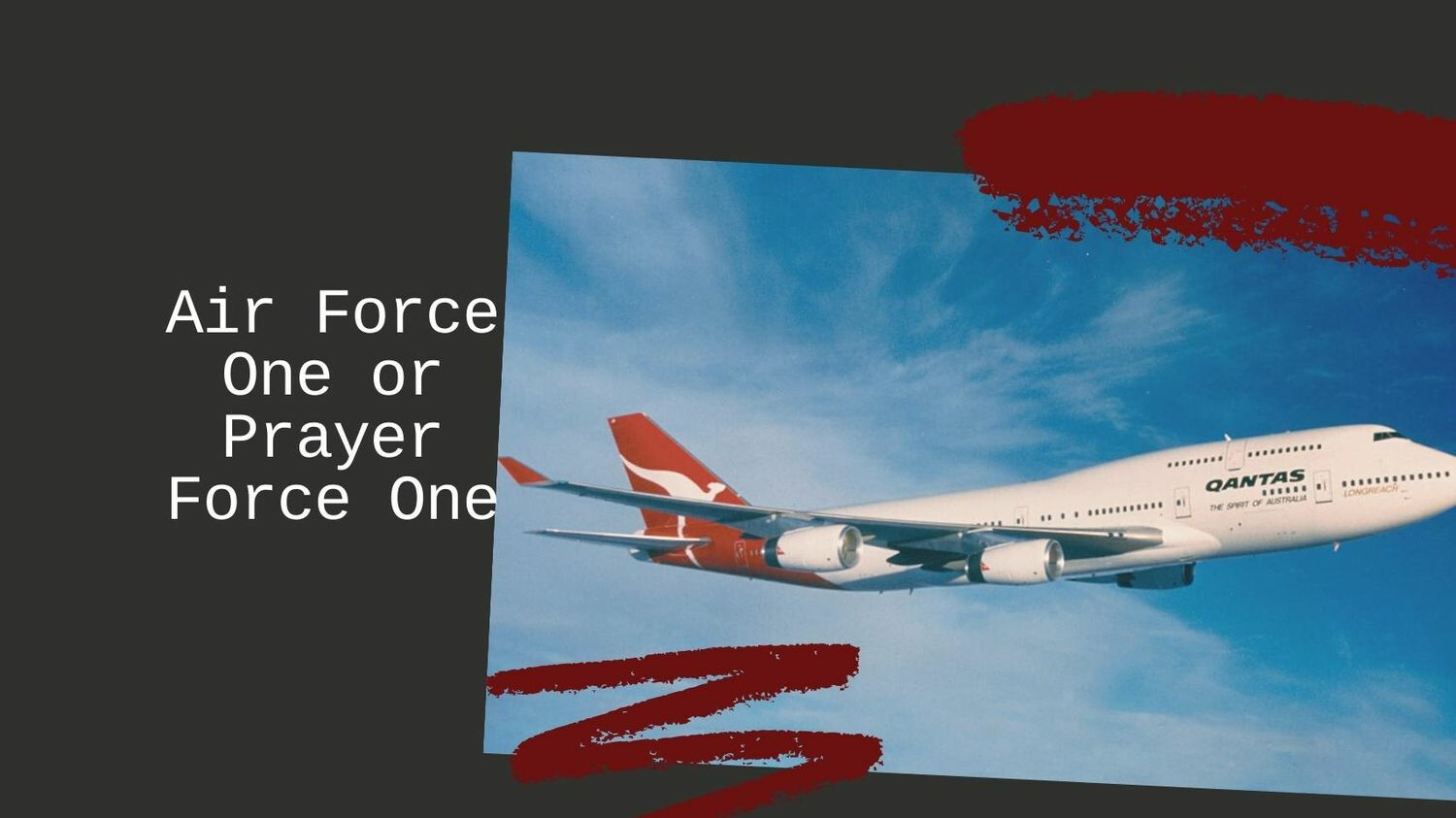 SCRIPTURE
"Finally, brothers, pray for us that the message of the Lord may spread rapidly and be honored, just as it was with you." 2 Thessalonians 3:1
SPOTLIGHT
Air Force One is a Boeing 747, which transports one of the most important people in the world, namely, the President of the United States. It is a giant plane, that is five stories high and nearly a city-block long. The plane has 4,000 feet of interior space, a half dozen restrooms, and an emergency surgery bay, with a pull-out operating table. Without refueling, it can fly halfway around the world, and is protected by an anti-missile system. The plane's top speed is 701 mph. At any moment, the President has the power to connect with any national, or world leader.
One word describes Air Force One. That word is powerful. Because of its power, it can accomplish great purposes, as well as protect the President, as it did on 9/11 when the United States was attacked by terrorists.
The Apostle Paul, who was one of the most important New Testament figures, did not have the power and protection of Air Force One, but he did have something far better. In 1 Thessalonians 3:1, he identified his "Air Force One" as Prayer Force One, when he wrote to the Thessalonian Christians, by unashamedly asking them to, "Pray for us…" Paul knew the importance of prayer. Prayer is powerful. He believed that prayer was so forceful, that he invited people to become a prayer force for his ministry. In order for him to achieve his desire to evangelize the world, he would need protection. He could have had a team of men travel with him as bodyguards, but instead he chose to ask God's people to pray. He was able to accomplish so much more for Jesus Christ because of the prayer power of God's people. Do you have the same conviction?
Many times, Paul sought believers to pray for him. Often times believers do not seek prayer partners because of embarrassment. He also testified as to how their prayers had been so effective. To the believers in Rome, he wrote, "I urge you, brothers, by our Lord Jesus Christ and by the love of the Spirit, to join me in my struggle by praying to God for me. Pray that I may be rescued from the unbelievers in Judea, and that my service in Jerusalem may be acceptable to the saints there, so that by God's will, I may come to you with joy and together with you be refreshed. The God of peace be with you all. Amen." [Romans 15:30-33.]
When this great man of God was under tremendous pressure and opposition, he "despaired even of life" [2 Corinthians 1:8.] He thought that death was moments away. Then he told the believers how their prayer power had saved him. "He has delivered us from such a deadly peril, and He will deliver us. In Him, we have set our hope that He will continue to deliver us, as you help us by your prayers. Then many will give thanks on our behalf for the gracious favor granted us in answer to the prayers of many." [2 Corinthians 1:10,11.] Paul just did not ask one, or two people to pray. He invited as many who were led by the Holy Spirit to intercede for him.
Paul testified to the Philippian Christians as to how powerful and effective their prayers had been and would be. "…for I know that through your prayers and the help given by the Spirit of Jesus Christ, what has happened to me will turn out for my deliverance." [Philippians 1:19.] This great man of God was convinced that God answers prayer when God's people fervently pray.
When the Apostle wrote the Colossian Christians, he spoke very directly to them by saying "Devote yourselves to prayer being watchful and thankful. And pray for us, too, that God may open a door for our message, so that we may proclaim the mystery of Christ for which I am in chains. Pray that I may proclaim it clearly, as I should." [Colossians 4:2-4.] Here Paul is reminding them to pray with persistence and intensity for his ministry.
Even before Paul wrote the second letter to the Thessalonian Christians, he had already requested them to pray for him in the last few lines of his first letter. 1 Thessalonians 5:25 states, "Brothers, pray for us." Think about the emotion behind those 4 words. When someone says to you, "Pray for me," consider that a plea for help. It is not being said lightly. The great Apostle was needing the prayers of God's people as much as you and I need them today.
You need the prayers of other believers. Who do you ask to pray for you? When you do this, you are not admitting to weakness but humility. You cannot do life well without asking people to pray for you. You are expressing a strong belief in the power of prayer when you have people pray for you and with you.
You, also, need to pray for other believers. Who do you pray for? What are the names of the people on your prayer list. Some of the names on mine are my wife, children, grandchild, extended family, my pastor, church and church leadership.
Which will it be – AIR FORCE ONE, OR PRAYER FORCE ONE? Do you want the power of the first, or second? When God's people are faithful at praying for one another, great spiritual, accomplishments are made. Christians begin to realize why Jesus Christ instructed us to pray. "Thy kingdom come, thy will be done, on earth as it is in heaven." It is possible to experience some of heaven on earth when you and I simply say, "Pray for me!"
SOMETHING TO DO
Which statements best describe your present prayer life? Check the appropriate boxes.
--- #1 I seldom pray because God doesn't seem to answer my prayers.
--- #2 I pray because I believe in the power of prayer.
--- #3 I often ask people to pray for me.
--- #4 I do not ask people to pray for me because it is my personal affairs.
--- #5 I often tell people that I am praying for them.
--- #6 When I tell someone that I am praying for them, I am faithful at doing just that.
--- #7 I have a list of people who I regularly pray for, and often I will tell them I do this.
SOUL TIME PRAYER
Heavenly Father, I believe You hear and answer prayer. That is why You invite me to pray. Remind me to put aside any pride I have that would cause me to not invite family and friends to pray for me. When it comes to praying for people, help me to be faithful in keeping my commitment. Thank You for answering prayer today, just as You did in Bible times.
You are all powerful and unchanging. I worship You, Almighty God, there is no one like You. AMEN.